Read the latest edition of Safety NET-works, which has all the latest news from SCSN and across the community safety sector including;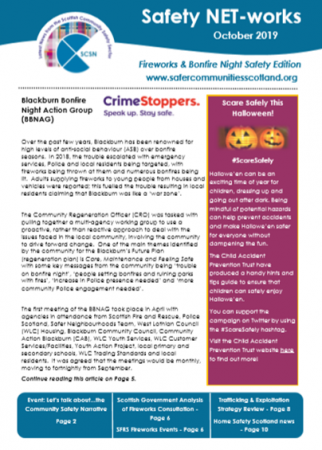 Blackburn Bonfire Night Action Group – CrimeStoppers
Scare Safely this Halloween – CAPT
SCSN EVENT: Let's Talk about….the Community Safety Narrative
SCSN & Neighbourhood Watch Scotland team up officially!
Question of the Month
60 seconds and Conversations with…. video with Ross Haggart, SFRS
SFRS Strategic Plan 2019-22 launched
Analysis of Scot Gov Fireworks Consultation Published
Organised Fireworks Displays 2019
SafeTea Ambassadors Programme
Human Trafficking & Exploitation Strategy Review
Improving the lives of Gypsy/Travellers Action Plan published
Nominations open for Youth Work Awards – YouthLink Scotland
Community Safety Sector Blogging: Outcomes, Meetings and Prague
Home Safety Scotland: Latest Home Safety news
In other news…
Read the latest edition of Safety NET-works in PDF Format. You can SIGN UP to our newsletter mailing list below. Please read our data privacy notification before signing up.
Missed an edition? Catch up on all the news now;
If you would like to have an article included in our newsletter the dates for submission are –
18 October for October newsletter
Please send your article to info@scsn.org.uk on or before the deadline and we will get back to you as soon as possible.