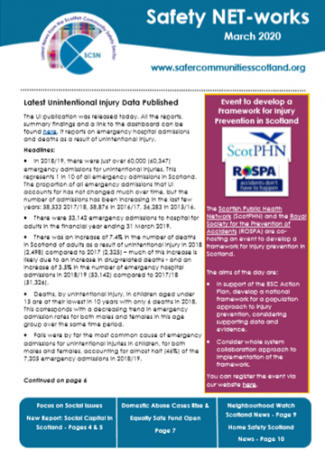 Read the latest edition of Safety NET-works, which has all the latest news from SCSN and across the community safety sector including;
Latest Unintentional Injury Data published
Event: Developing a Framework for Injury Prevention in Scotland
SCSN Event: Let's talk about…Hate Crime & Equalities
A day out at the SCVO Gathering
Social Capital in Scotland – Report
Life Expectancy stalling in UK
Rough sleeping 5 times higher than official figures
Drop in use of short term prison sentences sees boost in community payback
SCSN at the launch of the SFRS Youth Volunteer Scheme
Domestic Abuse cases rise
Equally Safe Fund Open for Applications
New Study: Prioritising Prevention in Youth Justice
Lack of Awareness of Human Trafficking fuelling exploitation
Serious Organised Crime (SOC) Progress Report
Neighbourhood Watch Scotland news
Home Safety Scotland news
LGBT young people locked out of education and employment
Research Participants sought: LGBT experiences of alcohol services
Read the latest edition of Safety NET-works here. You can SIGN UP to our newsletter mailing list below. Please read our data privacy notification before signing up.
Missed an edition? Catch up on all the news now;
If you would like to have an article included in our newsletter the dates for submission are –
6 March for the March newsletter
Please send your article to info@scsn.org.uk on or before the deadline and we will get back to you as soon as possible.