Welcome to the latest edition of the SCSN Safety NETworks newsletter.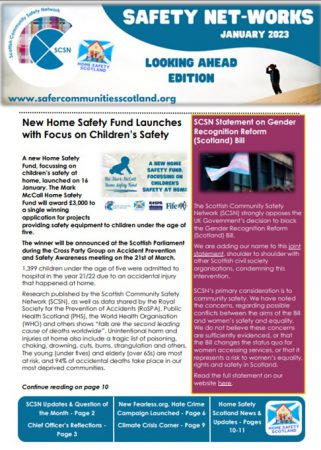 This month we're looking ahead to the new year of 2023. There's a lot of gloom around just now and times are certainly tough, but we hope that in the world of community safety, a lot might continue to change for the better.
Not least via the new Mark McCall Home Safety Fund! We're delighted that this fund is now open and hope it might make a real difference in reducing accidents among kids under five – and make a fitting tribute to our much missed and much loved former chair person.
As usual we also bring a selection of the latest news and updates from across the community safety sector, including our monthly Climate Crisis Corner and Home Safety Scotland news updates.
Read the latest edition of Safety NET-works here. You can SIGN UP to our newsletter mailing list below. Please read our data privacy notification before signing up.
Previous editions
Missed an edition? Catch up on all the news now;
Safety NETworks September 2022
Safety NETworks Community Engagement Edition
Archived Editions of Safety NETworks
Safety NETworks 2021 Editions Archived
Safety NETworks 2020 Editions Archived
Safety NETworks 2019 Editions Archived
If you would like to have an article included in our newsletter please send your article to info@scsn.org.uk and we will get back to you as soon as possible.