Home Safety at Christmas Edition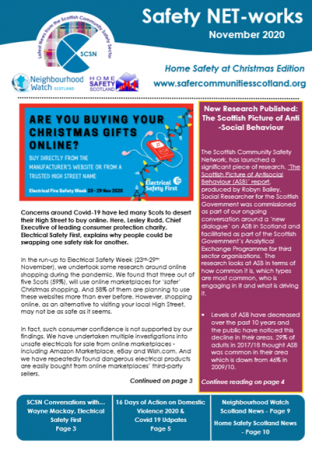 Read the latest edition of Safety NET-works, which has all the latest news from SCSN and across the community safety sector including;
Are you buying Christmas Gifts online? – Guest Blog, Electrical Safety First
New Research Published: The Scottish Picture of Anti-Social Behaviour
SCSN Updates
Question of the Month November 2020
SCSN Conversations with…Wayne Mackay, Electrical Safety First
Alcohol Awareness Week coincides release of alcohol related hospital admission and death stats
16 Days of Activism Against Gender Based Violence: Equally Safe Final Progress Report Published
Covid 19 Updates
Electrical Fire Safety Week
Carbon Monoxide Awareness Week
Fire Alarm Legislation delay proposed
Grenfell Inquiry Phase 1 recommendations: SG response
National Suicide Prevention Leadership Group respond to 2019 increase in deaths by suicide
New look for improving the life chances of children who offend paper
State of the Art Review: preventing child and youth pedestrian motor vehicle collisions: critical issues and future directions
RoSPA 's 'Take Action Today, Put Them Away' campaign continues
Neighbourhood Watch Scotland News
Home Safety Scotland News
In other news….
Read the latest edition of Safety NET-works here. You can SIGN UP to our newsletter mailing list below. Please read our data privacy notification before signing up.
Missed an edition? Catch up on all the news now;
September 2020 Safety NETworks
July 2020 Bulletin
If you would like to have an article included in our newsletter please send your article to info@scsn.org.uk and we will get back to you as soon as possible.