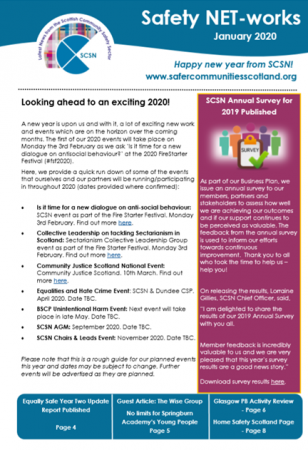 Read the latest edition of Safety NET-works, which has all the latest news from SCSN and across the community safety sector including;
Looking ahead to an exciting 2020! – Upcoming Events
SCSN Annual Survey Published
SCSN Updates
Question of the Month
Equally Safe Year Two Update Report
Alcohol and Domestic Abuse Study
Youth Justice Standards Consultation
Guest article, Wise Group: No limits for Springburn Academy's Young People
New Report Evaluates Glasgow's Participatory Budgeting Activity
National Islands Plan launched
The Importance of Liveable Neighbourhoods – Sustrans
SPARC Rural Crime Update
Animal & Wildlife Bill
Safer Internet Day 2020
Home Safety Scotland Updates
Zero tolerance alcohol limit could cut road deaths
Drug Related Hospital Statistics Customer Consultation
BSC Online Hub new updates
Could climate change become a community safety issue?
Read the latest edition of Safety NET-works here. You can SIGN UP to our newsletter mailing list below. Please read our data privacy notification before signing up.
Missed an edition? Catch up on all the news now;
If you would like to have an article included in our newsletter the dates for submission are –
9 December for December newsletter
Please send your article to info@scsn.org.uk on or before the deadline and we will get back to you as soon as possible.