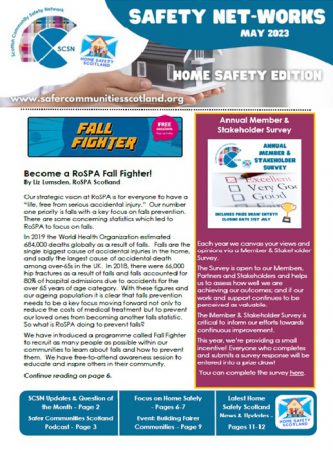 Welcome to the latest edition of the SCSN Safety NETworks newsletter.
This month, our theme is 'Home Safety'. We're pleased to publish our latest Podcast with Dr Vikki McCall of the University of Stirling on inclusive home adaptations, some of the research in this area, a guest article from our partners at RoSPA on Fall Fighters and more! 
We also have a discussion with Zara Hedges from Winning Scotland on Planet Youth and our recent trip to Rome.
As usual we also bring a selection of the latest news and updates from across the community safety sector, including our monthly Climate Crisis Corner and Home Safety Scotland news updates.
Read the latest edition of Safety NET-works here. You can SIGN UP to our newsletter mailing list below. Please read our data privacy notification before signing up.
Previous editions
Missed an edition? Catch up on all the news now:
Safety NETworks September 2022
Safety NETworks Community Engagement Edition
Archived Editions of Safety NETworks
Safety NETworks 2021 Editions Archived
Safety NETworks 2020 Editions Archived
Safety NETworks 2019 Editions Archived
If you would like to have an article included in our newsletter please send your article to info@scsn.org.uk and we will get back to you as soon as possible.