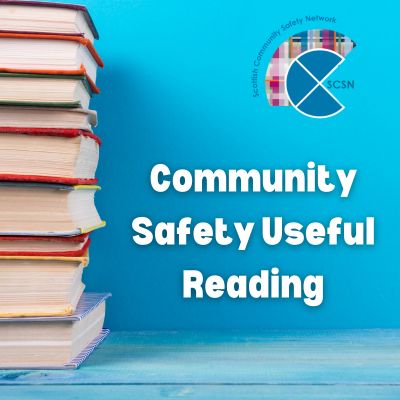 We believe in evidence based policy in community safety focused on prevention.
Academic and other research is one extremely useful resource for community safety practitioners and other professionals working in community safety.
But we feel it would be remiss not to also see books, including literature, as another hugely important resource in shaping policy and changing attitudes around many community safety issues.
On this page, we compile what we think is a useful reading list for anyone working in community safety or towards building safer communities.
We hope you enjoy some of our suggestions!
| | | | |
| --- | --- | --- | --- |
| Title | Author | Category | Main Topics |
| Chavs | Owen Jones | Non Fiction | Poverty, Class, Inequality |
| The Spirit Level: why equality is better for everyone | Richard Wilkinson & Kate Pickett | Non Fiction | Inequality, economics, policy |
| The Health Gap | Professor Michael Marmot | Non Fiction | Health inequality, inequality, public health |
| Drugs Without the Hot Air | Prof David Nutt | Non Fiction | Drugs, War on Drugs, Drug Policy |
| The Body Keeps the Score | Bessel van der Kolk | Non Fiction | Trauma, health |
| When the Body Says No | Gabor Mate | Non Fiction | Trauma, stress, health |
| A Sense of Freedom | Jimmy Boyle | Non Fiction | Prison, Crime Prevention, Rehabilitation of Offenders |
| Euphoric Recall | Aidan Martin | Non Fiction | Addiction, drugs, trauma |
| Resurrection | Leo Tolstoy | Fiction | Penal Reform |
| Discipline & Punish | Michel Foucault | Non Fiction | Punishment, Penal Reform |
| The Good Prison Officer: Inside Perspectives | Andi Brierly | Non Fiction | Prisons |
| The Ten Percent | Simon McLean | Non Fiction | Policing |
| Chasing the Scream | Johann Hari | Non Fiction | War on Drugs, Drugs Policy |
| Of Boys and Men | Richard Reeves | Non Fiction | Male role models, male violence |
| Revolting Prostitutes | Juno Mac, Molly Smith | Non Fiction | Sex workers |
| A Brief History of Misogyny | Jack Holland | Non Fiction | Misogyny, VAWG |
| Enough: The violence against women and how to end it | Harriet Johnson | Non Fiction | VAWG |
| Poverty Safari | Darren McGarvey | Non Fiction | Poverty, Inequality, Community |
| The Ballad of Reading Gaol | Oscar Wilde | Poetry | Prisons, Penal Reform |
| The Myth of Normal: Illness and Healing in a Toxic Culture | Dr Gabor Mate | Non Fiction | Trauma, Health & Wellbeing, Addiction |
| In the Realm of Hungry Ghosts | Dr Gabor Mate | Non Fiction | Drugs, Addiction, Trauma |
| Stigma: notes on the management of spoiled identity | Erving Goffman | Non Fiction | Stigma |
| Straight Jacket | Matthew Todd | Non Fiction | LGBTI, Trauma, Addiction |
| Waking the Tiger, Healing the Trauma | Peter Levine | Non Fiction | Trauma |