David Barbour

18th September 2023
by David Barbour, SCSN Communications Officer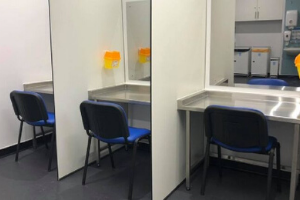 Finally, after years of campaigning by many organisations and individuals – it looks like a safer drug consumption room will soon open in Scotland.
Following a decision from the Lord Advocate Dorothy Bain that she would be willing to issue guidance that it would not be in the public interest to prosecute users of such a facility, or indeed the staff working there, and confirmation from the Secretary of State for Scotland that the UK Government will not block it – Glasgow Health and Social Care Partnership are now likely to proceed towards opening one in the near future. This will be subject to choosing a suitable location, recruiting staff and other considerations – including how this pilot service will be evaluated and monitored.
What will this mean for drug users and communities?
So, what will this mean for drug users and for wider communities who will be asked to accept drug consumption rooms as part of their landscape?
Well for drug users – the benefits of safer drug consumption rooms are clear. Instead of using unsafe drugs in unsafe locations (e.g. public places) without trained medical staff present and relying only on peers (or indeed on nobody) to look out for their health and safety – drug users can access a service where they can use their drugs under the supervision of trained medical staff with easy access to life saving medications or treatments (e.g. Naloxone) should something go wrong.
They can also access clean/sterile equipment for using drugs which reduces the risk of infections, abscesses and significantly reduces or eliminates the risk of transmission of blood borne viruses such as HIV and hepatitis C. This will be of particular relief to Glasgow following a recent HIV outbreak among injecting drug users – and can help move Scotland closer towards the goal of ending HIV and hepatitis C transmission by 2030.
Ideally, safer drug consumption rooms would also offer drug testing facilities so that users can be sure of what's in the drugs they're using (also allowing public health monitoring of drug supply) and other drug treatment facilities, including diamorphine (heroin) assisted treatment – a pilot of which in Glasgow has seen huge success. Alongside all of these harm reduction services – safer consumption rooms would also offer routes in drug treatment including rehab and abstinence-based services.
Many of these benefits of safer consumption rooms for drug users though depend on their accessibility, and we agree that one such facility in Glasgow is simply not enough. We need to see safer consumption facilities available for people to use locally in order for them to have their best effect.
Taking communities with us
The SCSN is delighted that Scotland will finally be able to benefit from safer consumption rooms for drug users. We are entirely convinced by data from numerous countries around the world of their efficacy and that they contribute to building safer communities.
But what about the general public? We feel now is the time to start having conversations with the public about what safer drug consumption facilities will mean for them – and extolling the benefits that they could bring in local communities. We believe that Community Safety Partnerships can play a big role in facilitating these conversations. Happily, we start from a position where a majority of Scots support drug consumption rooms.
Clearly, these conversations will need to dovetail with wider efforts to tackle stigma associated with drug (and alcohol) use – especially problematic use and particularly injecting drug use. A recent Scottish Government campaign has sought to tackle this very issue. Typically, services for drug users – like services for homeless people and other disadvantaged groups – can sometimes run into opposition from communities for a variety of reasons – and stigma or negative attitudes towards these groups can play a big role. However, practical concerns can also play a part.
So, what are some of the benefits of safer drug consumption rooms for the wider community?
Well, firstly drug consumption rooms can certainly play a role in reducing drug deaths – though we freely admit they are far from a silver bullet. If we can save more lives we can reduce the ripple effect of grief and trauma in families across Scotland – which can so often lead to a huge range of health, social and economic costs down the line. Remember, drug users are our family members, friends, or family members or friends of our friends.
Anything that helps to keep people well and reduce illness can reduce costs to wider society. Early deaths cost the economy a lot of money. HIV and hepatitis C infections cost the NHS millions every year in highly expensive and sometimes life-long treatments – and as the wider population has learned with Covid, viruses don't care who we are or what our social status is. Higher levels of HIV and hepatitis C infection in a specific population (e.g. drug users) can and do spill out into the wider population. So, if we find it difficult to care about certain groups – understanding viruses and how they spread might make us think again.
Safer drug consumption rooms also reduce the need for public injecting – meaning a reduction in drug litter (discarded needles and syringes) in our public places – which again reduces the risk of injuries and virus transmission, meaning our public spaces can be kept cleaner and safer for everyone – not just drug users. Australia, Canada and Spain have all collected data on drug related litter and have found that drug consumption rooms reduce public injecting and injection related litter in public spaces – and in Sydney, local residents and business operators perceived significant improvements in public amenity indicators from the opening of one such service.
Some people may be worried that drug consumption rooms might be likely to increase drug related crime in their local areas. Well, numerous studies have shown that there is no evidence to suggest that they do. See this excerpt from the European Monitoring Centre for Drugs and Drug Addiction (EMCDDA):

"The effect of the Sydney supervised injecting facility on drug-related property crime and violent crime in its local area was examined using time series analysis of police-recorded theft and robbery incidents (Freeman et al., 2005). No evidence was found that the existence of the facility led to either an increase or decrease in thefts or robberies around the facility. Similarly, a study by Wood and colleagues compared the monthly number of charges for drug trafficking, assaults and robbery — crimes that are commonly linked to drug use — in Vancouver's Downtown Eastside the year before versus the year after the local drug consumption room opened and found that the establishment of the facility was not associated with a marked increase in these crimes (Wood et al., 2006).
Full article available here.
The SCSN is keen to open a dialogue with our members and partners in Community Safety and strongly believes that Community Safety Partnerships can play a major role in facilitating community acceptance of drug consumption rooms going forward.
The SCSN also supports the Scottish Government position of moving towards drug decriminalisation – and eventual regulation of drug markets so that the fullest benefits of taking a public health approach to drug use – and reducing the violence and crime associated with illegal drug markets – can be realised.
If you'd like to talk to us about this subject – we'd love to hear from you. Email us at info@scsn.org.uk.