David Barbour

5th May 2022
by Dave Shea, Senior National Development Officer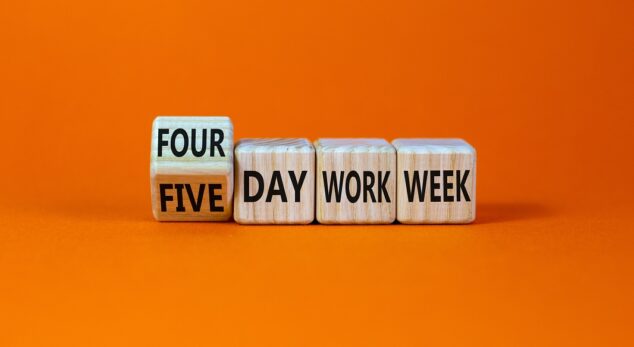 OVERVIEW
In October 2021, after extensive, systematic, considered discussion of gains and risks – to business and staff – SCSN began a 6 month pilot of 4-day working. We revised our terms and conditions. The organisation's principles and spirit of working were renewed. An updated 'How We Will Work' document was agreed. Board directors, membership and strategic partners were consulted and informed of the conclusions.
During the trial period, staff completed regular short surveys. From the outset, we recorded baselines and week by week, we measured our changing perceptions of happiness and job satisfaction, physical and mental health, quality of work and environmental impacts, the good and the bad. Staff also met periodically to check-in and share experiences of the challenges and benefits.
In April 2022, we completed the pilot. Internal surveying ended. Partners were asked to complete anonymous questionnaires, speaking to their experiences of us. A social media poll was carried out.
EVIDENCE
Data was captured from several sources, using different approaches, to help qualify our findings and give confidence in the conclusions drawn. But we recognise this methodology – as with any information gathering – is fallible and could be improved with more time and resource. We know some data are subjective. That said, our evidence is broad and realised from four perspectives: INTERNAL, EXTERNAL, ONLINE and ANECDOTAL sources:
70 unique staff surveys were submitted by the staff team across 6 months. Key insights to report include staff recording more motivation, increased wellbeing and better job satisfaction. Perceptions of quality of work and focus also improved. There was a feeling of slightly increased workload and pressure but staff agree this is within tolerance. More hobbies have reportedly been taken up. Positive environmental activities were noted in free time.
16 independent partners returned anonymous responses on their experiences of our 4-day working. Replies uniformly noted no decreases in the quality, quantity or relevance of SCSN output. Approximately 30% of respondents reported an upturn in productivity. Comments shared include:
"I've not experienced a difference in the work – it's as fabulous as it always was! From the outside I think there has been an improvement in the happiness levels of staff though."
"I have not noticed any detriment to the service provided."
"Any time I have had to contact the team I have had an immediate response and do not feel that the service has decreased in any way in the last 6 months – always excellent from the team!"
6 people took part in an anonymous Twitter poll of partners asking, 'Have you noticed any negative changes in our engagement or output over the past 6 months?'. Zero replied 'Yes', 4 said 'No' and 2 picked 'Not Sure'.
Day-to-day, staff received positive feedback from partners in conversation at meetings and through informal exchanges. Attitudinal reading of those with whom the team work suggests supportive, encouraging, positive reactions (we accept existing relationships may influence and skew these interpretations).
Two SCSN organisational reports, 3rd and 4th quarter – and our annual core grant claim – were written and submitted during the trial period, highlighting work completed during that time. Each of them document high volume, varied, quality work. This was recognised by our board of directors and colleagues, and is supported by the successful application of funds to government.
INFLUENCE
SCSN staff understand that – done right; documented, evidenced, reported professionally, transparently and truthfully – our 4-day week pilot can reach others, inform and inspire (or deter!). We take that responsibility seriously.
Since the last blog, we have been contacted by a number of (larger) peer organisations, asking about our trial, keen to know more and learn about the practical application of 4-day working. Some are using SCSN as a model for implementation and design of their own pilots which is really encouraging.
And SCSN has spoken to the 4-day working experience at cross-sector webinars (hosted by Flexibility Works and others), sharing learning and knowledge. Our team try to pro-actively engage partners and advocate, where appropriate on the merits of 4-day working, adding – we hope – to a broader conversation on working culture and citizens' relationship with work. It seems that, since the global pandemic began, this has become increasingly important for our communities.
WHAT'S NEXT
In May 2022, the staff team unanimously agreed to recommend to the board of directors that 4-day working is made permanent. This was approved and SCSN is now a fully-fledged 4-day week employer. We are delighted to stand with other organisations in Scotland and around the world.
The change to 4-day working demanded discipline and commitment from every staff member. We've learnt that culture change is hard. It was not easy in the early weeks, and it remains challenging at times today, but the costs are small when weighed against significant improvements to life value and satisfaction, at zero cost to quality of work or output.
4 Day Week Global (a non-profit community) explain the rationale for change. We unreservedly agree;
"Adopting a four-day work week is a business improvement strategy centred on working smarter rather than longer, and investing in the wellbeing of the most important asset to any business – your people."
PERSONALLY
In previous blogs (1/3 here and 2/3 here), I shared some of the positive impacts 4-day working had on my life. I'm pleased to share this has continued. The extra day is particularly valued now my wife has returned to work after maternity leave. Our sons (Euan, 1 and Hamish, 5) enjoy extra swimming with Daddy and long walks at Pollok Park on Fridays. I have started community volunteering. I spend more time with family. I see more friends. I'm happier. I do love my job but now – more than ever before – I can confidently say, I don't live to work, I work to live. I hope more employers embrace the same change. I hope more people get the chance to reclaim their time.
Right now, it feels like the working world is being pulled in two very different directions. On one hand, we read stories of employers deducting pay for those who continue to work from home, and organisations who install invasive software to monitor staff productivity. On the other hand, there are companies who seek to empower and trust employees, and understand the correlation between efficiency and output, and welfare and happiness.
I'm reading a book right now (another advantage of a little more time) about time. The author calculates, assuming you live to around eighty years, the average person will see just 4,000 weeks in a lifetime. That seems like an astonishingly small number.