David Barbour

24th January 2022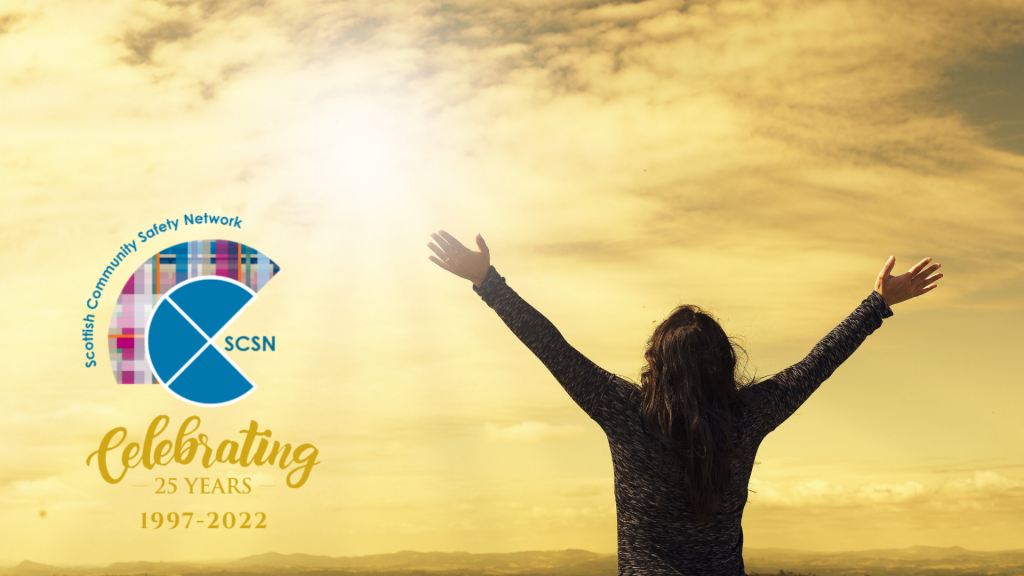 For our first newsletter of the year, following two very difficult years, we decided we wanted to try focus on what we're feeling hopeful about. Here, the SCSN staff team share what they're excited about in community safety in 2022, as well as their personal hopes for the year!
Lorraine
I'm hoping for a quieter, less eventful year in 2022. SCSN staff team have shown great resilience and perseverance over the last few years and we have managed to create strong bonds and relationships with each other. I'm looking forward to actually *seeing more of each other now that Covid protections are changing. SCSN are involved in some super exciting work in 2022 and I'm hoping these will continue to support the community safety sector achieve better outcomes.
On a personal note, I'm hoping for more stability for my autistic child and for much more travel for me……
Dawn
"I'm feeling hopeful for 2022 in general and keen to get life back to normal after a challenging two years. One of the things I'm most keen to get stuck into is our Reconnect Roadshow and get back out and about a bit, meeting people face to face (if allowed/wanted) and hopefully see a bit of Scotland on the way! I'm also looking forward to our 25th birthday celebrations as a chance to showcase all SCSN have achieved over the years. On a personal note – I'm really hoping to get away a few times as I miss travelling!"
David
I'm hopeful that 2022 will be better than 2021, and that just perhaps we might finally be nearer the end of the worst of the Covid pandemic!
From a work perspective I'm looking forward to seeing more of my colleagues in person this year – as well as maybe a return of some in person events. I'm also enthusiastic about continuing to increase our Communications output and quality as I believe we have managed to do year on year!
Personally, I'm looking forward to getting back on stage and doing some plays, and hopeful of travelling to the USA for the first time in the summer!
Dave
At the SCSN, we've created an ambitious set of goals for the year ahead. I'm hopeful we'll help support real, positive change in areas including anti-social behaviour, home safety, data sharing, community engagement and international community safety. I'm optimistic that our 4-day working pilot – if successful – will offer a meaningful story to a national conversation about work, mental health and equality. And I really can't wait for the development team to meet CSP colleagues, across Scotland and in-person on our roadshow. Like the tiger (it's the year of the tiger in the Chinese zodiac) we'll be "passionate, brave, with an unusual spirit of adventure" in what we do. Maybe a little fierce too.
At home, I'm excited to witness my boys' (4 and 1) continued exploration of the world and the things around them. They make the mundane feel alive and refresh my imagination.
Sandra
My last overseas holiday was in January 2020 prior to the world going into pandemic mode. It has been an eventful 2 years both personally and professionally. This year I am looking forward to being able to travel abroad on holiday. I am also looking forward to getting together with my large family as we have been trying to follow all of the different restrictions that we have been placed under. I also hope that we are coming to the end of living under these restrictions.
Josh
Looking forward, I am excited about creative and worthwhile projects and outputs that SCSN are working towards. In particular the work around Home Safety, Community Engagement and using creative arts to better understand different groups perceptions and Experiences of Community Safety.