David Barbour

24th November 2021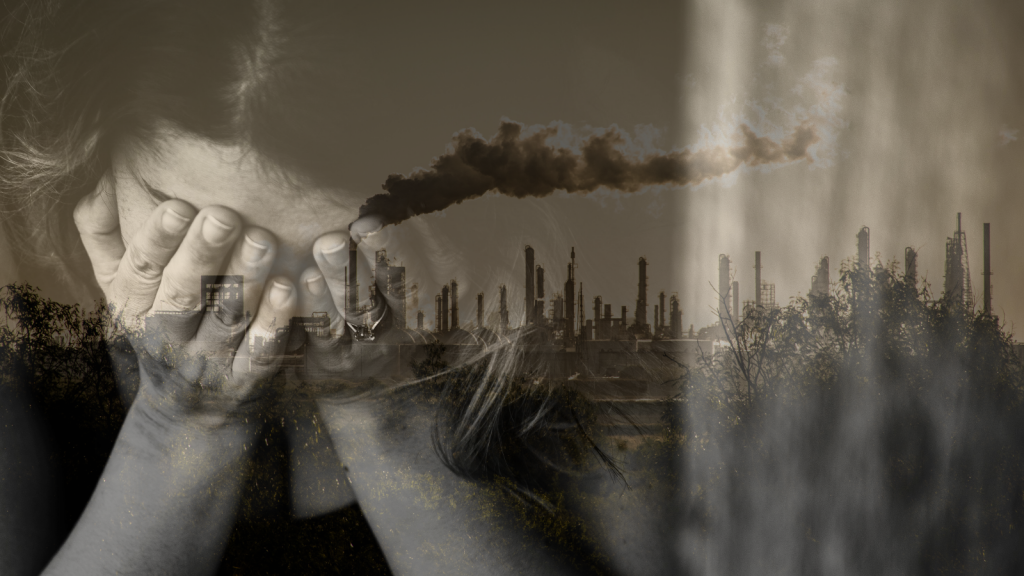 David Barbour, SCSN Communications Officer
In October, we ran a webinar on Climate Change and Community Safety. Given that the climate crisis will affect literally everyone, we were aware that it might inevitably impact on community safety too. But it was only when we started giving it some real thought that we began to realise there were a huge range of potential impacts across many areas of community safety. How we plan, design and build communities or places is also crucial to help reduce the likelihood of the worst impacts of climate change – e.g. active travel, excellent & affordable public transport, sustainable development, green spaces, safe and warm homes and more.
You can download the webinar learning report here.
In this blog though, I wanted to take a look at one specific area on which climate change is already having an impact, and which potentially has many implications for community safety – climate anxiety and mental health.
Dr Peter Kalmus, NASA climate scientist, recently wrote an excellent article on this topic for the Guardian. The article discusses the fomenting crisis of climate anxiety among young people – who feel betrayed, sad, angry, powerless, helpless and guilty – about the climate crisis. A recent study published in the Lancet Medical Journal, which surveyed 10,000 young people in 10 countries, showed that 59% of young people felt very or extremely worried about the climate crisis – with 84% at least moderately worried.
Increasingly, youth organisations are feeling compelled to publish information and/or guidance for young people who are experiencing climate anxiety – see this useful example on the YoungScot website.
In some parts of the world (and indeed this year we have seen that Europe is far from immune) people are already having to cope with trauma inflicted by extreme weather events. We know well enough by now the possible adverse effects of trauma (especially childhood trauma) in terms of future health and social outcomes, including for example crime, drugs and alcohol use.
However, it's not just youth mental health that we need to be worrying about. Peter Kalmus, an adult NASA scientist, describes himself on his Twitter account as 'terrified by what I see coming.' He quotes research published in Nature which projects that by 2050, Mexico and the United States alone will see between 9,000 and 40,000 extra suicides attributable to rising temperatures.
Suicide is just one of a few kinds of deaths that fall under the bracket of 'deaths of despair'. Alcohol and drug deaths are others.
We're all hopefully well aware that the drugs deaths crisis in Scotland has been worsening for several years now, with new records reported in consecutive years since 2014. Record drug deaths are also being reported in England and Wales – as well as the United States. Last year, alcohol deaths in Scotland increased by 17% to their highest level since 2008.
Interestingly, Angus Deaton, a Nobel Prize winning economist, blames increased deaths of despair in the last two decades on the flaws of capitalism – and indeed the solutions to the climate crisis likely also lie in addressing some of those flaws!
Worryingly, it seems reasonable to think that if one kind of death of despair, suicide, is projected to increase due to trauma, anxiety and mental health issues related to climate change – with people reporting feeling sad, powerless, helpless and guilty – there is every reason to think others might too.
As an alcoholic in recovery who suffers from depressive anxiety, I have long battled against a sense of hopelessness, powerlessness, sadness, helplessness and meaninglessness at times. Possibly one might sum this up as 'existential angst'. I also experienced, and continue to experience, feelings of anger, betrayal or unfairness at the world around the difficulties of growing up gay in a world not built for me. In order to get and stay sober, I've had to fight and work hard sometimes to find a sense of hope, meaning, power/agency in my life. Anything that comes along which makes that harder, is a threat to my sobriety – and therefore a threat to my life.
In my role away from SCSN as an Alcohol Brief Intervention Practitioner, it's my job to use motivational interviewing techniques to inspire a sense of hope and confidence in people that not only can they change their behaviour, but there's a good reason to do it – i.e. a potential positive, happy, healthy future with less or no alcohol. Without hope, behaviour change is a tough sell!
If we don't do what we need to in order to avert the worst impacts of climate change – which scientists are predicting we might see well before the end of this century – I fear for what that does to those who already struggle with a sense of powerlessness, helplessness or meaninglessness. I also fear for what it does to professionals whose helping role involves convincing people there is hope. If we don't feel there is, how can we convince anyone else?
So I'm deeply concerned that the climate crisis could hamper efforts to reduce deaths from alcohol and drugs. And given that people also report feeling angry and betrayed, with people already also being traumatised by climate change, I worry about increases in violence, disorder and crime.
Biopsychosocial approaches to health, and trauma informed approaches, understand that our environments shape our brains, our minds and our health – all of which impact on our behaviour. If our environment is falling to pieces around about us, what will that mean for us as individuals and as societies?
For tips for Managing Climate Anxiety from Eco Watch – visit https://www.ecowatch.com/managing-climate-anxiety.html