David Barbour

20th April 2023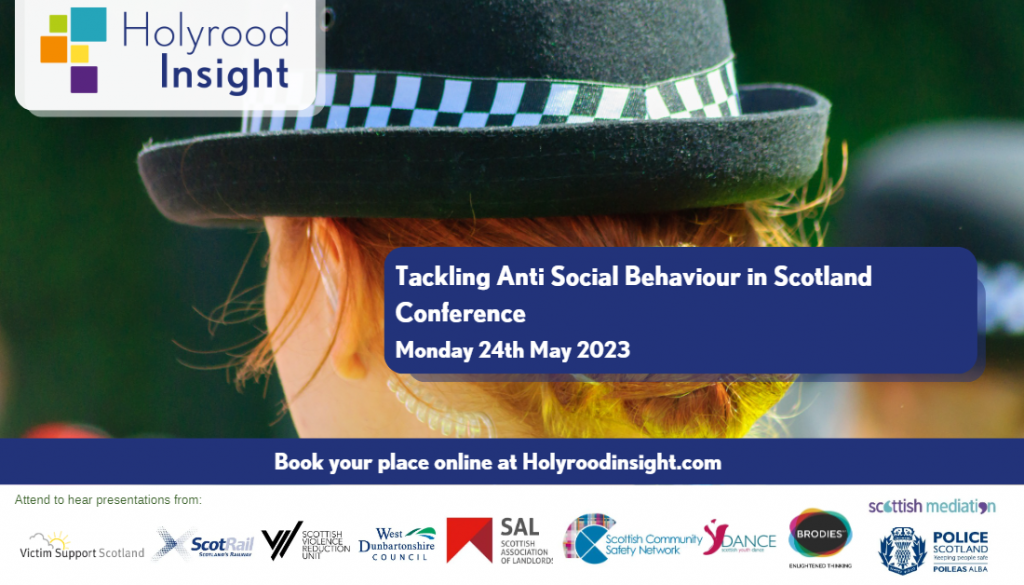 SCSN is delighted to be presenting at this conference on 24 May.
Nearly half of Scotland's population have been impacted by antisocial behaviour – yet half of these incidents are going unreported.
Whether in communities, at home, or on public transport, antisocial behaviour has a devastating impact on people's lives.
Holyrood Insight's Tackling Antisocial Behaviour in Scotland Conference will outline the priorities for tackling antisocial behaviour and showcase best practice from across Scotland.
Hear how multi-agency partners have taken steps to prevent and deal with antisocial behaviour and showcasing best practice, policies and strategies.
The conference will focus on support for victims and ensuring that everyone who experiences ASB feels empowered to report the problem. Expert speakers will discuss how to raise awareness and tackle stigma around ASB. The conference will discuss your legal responsibilities to support victims, and ensure that reporting procedures are clear and accessible.
Bringing together the police service, criminal justice sector, fire and rescue service, local authorities, housing, and the third sector, meet colleagues and strengthen your approach to ASB.
Key Points
· Effective multi-agency working across police, local authorities, third sector and housing
· Understanding what works for tackling antisocial behaviour
· Improving the reporting of antisocial behaviour
· Best practice for resolving ASB cases
· Targeted initiatives for early intervention and prevention, local diversion campaigns
· Providing high quality support for victims
Powers available to you to resolve ASB cases
View the agenda and full speaker line up here.

For 20% discount, use code SPKR3968.