David Barbour

16th January 2023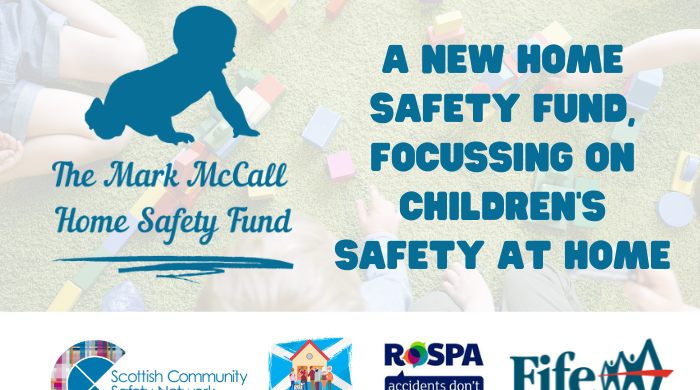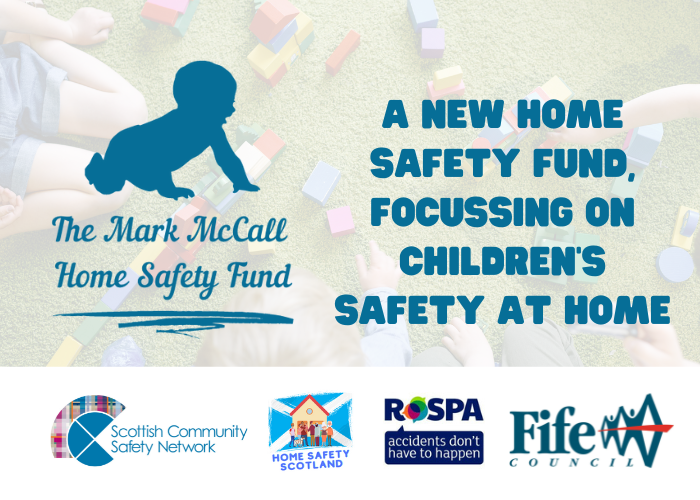 A new Home Safety Fund, focussing on children's safety at home, launches today. The Mark McCall Home Safety Fund will award £3,000 to a single winning application for projects providing safety equipment to children under the age of five.
The winner will be announced at the Scottish Parliament during the Cross Party Group on Accident Prevention and Safety Awareness meeting on the 21st of March.
1,399 children under the age of five were admitted to hospital in the year 21/22 due to an accidental injury that happened at home.
Research published by the Scottish Community Safety Network (SCSN), as well as data shared by the Royal Society for the Prevention of Accidents (RoSPA), Public Health Scotland (PHS), the World Health Organisation (WHO) and others shows "falls are the second leading cause of deaths worldwide". Unintentional harm and injuries at home also include a tragic list of poisoning, choking, drowning, cuts, burns, strangulation and others. The young (under fives) and elderly (over 65s) are most at risk, and 94% of accidental deaths take place in our most deprived communities.
Our changing relationship with the home
The global pandemic changed our relationship with the home. Whether by choice or necessity, more people are now spending more time at home. Lockdowns, self-isolating when sick and changes to how we work have all driven these changes. As RoSPA highlights, "because accidents happen behind closed doors in isolated incidents, they rarely attract media attention".
Furthermore, as the current cost of living crisis cuts deeper through our communities, families and services access to essential safety equipment, support and resource is becoming far more limited, or unavailable.
Remembering a home safety champion
The Mark McCall Home Safety Fund is a tri-partner initiative of the Scottish Community Safety Network (SCSN), the Royal Society for the Prevention of Accidents (RoSPA) and Fife Council in memory of Mark McCall, who sadly passed away after a courageous battle with cancer in 2021. Mark is fondly remembered as former Chair of the SCSN Board of Directors, Service Manager for Housing at Fife Council and a respected colleague and friend.
Mark was an enthusiastic, passionate advocate for home safety, particularly child safety.
Speaking about the launch of the fund, Lorraine Gillies, Chief Officer of the Scottish Community Safety Network said:
"Mark McCall is missed by all who were fortunate to meet him. The creation of this fund in his name with our colleagues at RoSPA and Fife Council is fitting, as those who knew Mark understand how passionate he was to prevent injuries and accidents to children in the home. The Mark McCall Home Safety Fund provides groups with an opportunity to apply for support for small projects across Scotland. The fund will provide support to the winning applicant who is delivering on home safety outcomes for children under the age of five anywhere in Scotland."
 Bill Harley, Project Officer in Safer Communities at Fife Council said:
"This fund has been created to provide a wonderful opportunity for the successful applicant to continue Mark's aspirations. He always worked very hard to ensure that prevention of injury, particularly to children in the home, was a priority both locally and nationally. The funds can be used to contribute to helping parents keep their children safe in such especially challenging times."
Liz Lumsden, Community Safety Manager at RoSPA said:
"RoSPA is honoured to contribute to such a fitting tribute in the name of a valued colleague who worked tirelessly to promote the need for programmes ensuring the safety and wellbeing of young children in the home. Sadly, many children are regularly admitted to hospital following an accidental injury. We encourage those with a role to play in ensuring safety in the home for the under fives to apply to the Fund to help prevent future accidental injuries to this most vulnerable age group."
Those interested in applying can find out more and download an application form via the Scottish Community Safety Network website. The deadline for applications is 17.00 on Tuesday 28th February. Joint bids also considered.