David Barbour

14th December 2022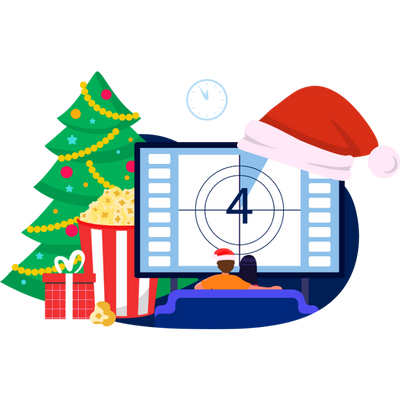 For each of the past few years at Christmas, we've taken a light hearted festive look at community safety issues. In 2020 we had our 12 Days of Community Safety. Last year we did our Community Safety Christmas Chart List. This year, we asked our staff team to pick two of their favourite Christmas movies & provide a community safety slant to them!
We hope you enjoy reading our list, check out the movies if you haven't seen them and find some really useful community safety info as well!
And Merry Christmas to all of our members, partners, stakeholders and friends!
The Shop Around The Corner (Kev Chase, NDO)
Based on department store workers who unknowingly become pen pals and despite disagreeing in work, fall in love through writing their letters. 

 The department store is based in Budapest where you can see products prior to purchasing and also how safe the product is.  We all know how tight budgets are going to be this festive season however please don't sacrifice safety for budget in your home.

Make sure you buy goods, especially electrical goods, from reputable dealers!
Elf on the Shelf (Kev Chase, NDO)
One of the first Christmas films we sat down as a family on Christmas Eve to watch. This movie and book has led to many elves being hidden then displayed in all kinds of places over the Festive season. With excited children trying to find their elves around the home. It is also important at Christmas to remember the safety of babies, toddlers and small children. Ingesting magnets and button batteries can have devastating effects on families as the statistics tragically report. Please be careful this Christmas especially with the younger and excitable members of your family."
Find out more about Button Battery Safety with this handy flyer from RoSPA.

'It's a Wonderful Life' (David Barbour, Comms)
One of the all time great Christmas movies. Every year at Christmas people all over the world make time to sit and watch this heart warming story about a man who feels his life has passed him by and that he's been a failure. Eventually, he decides he'd be worth more to his family dead than alive – and is ready to take his own life. He wishes he'd never been born.
This gives his Guardian Angel Clarence an idea. He seemingly grants his wish – George Bailey has now never been born. Clarence proceeds to show him just how much of an incredible difference he has made to the lives of others throughout his life – even through simple little words or actions that made others feel better, sometimes even saved their lives.
A lot of us might sometimes feel that our lives haven't gone as we'd liked. Maybe even we feel like failures occasionally. When we feel down, this negative self-talk can become a negative feedback loop. All of our lives have value. All of us will have done something at some time in our lives that helped someone else. If we hadn't been here, someone, somewhere, somehow – would have been the poorer for it – no matter how much we might sometimes feel otherwise.
If you're struggling with thoughts of suicide at Christmas, please reach out for support.
Contact the Samaritans on 116 123.
'A Christmas Carol' (David Barbour, Comms)
OK, so this is obviously more famously a book. But it has been made into a movie countless times. My personal favourite version (and as far as I'm concerned objectively best ever!) is Muppet Christmas Carol.
We all know the story (or we bloody well should by now). Scrooge is a miserly old boss who hates Christmas. 'Humbug!' he cries dismissively. A grim, cold hearted old man who values money and business above the things that make life worth living – love, family and friendship. And don't his employees know it!
His erstwhile clerk Bob Cratchit more or less has to plead for the day off on Christmas Day. "A poor excuse for picking a man's pocket every twenty-fifth of December!" – snorts Scrooge, before grudgingly granting the request – but demanding his staff be in work all the earlier the next morning!
Thankfully, we have a very different work culture at SCSN. We are highly flexible with our work hours – and we recently permanently adopted a four day working week. Our work is important, but we very much feel people should work to live, not live to work. Our staff are more productive, happier and healthier for having more time to pursue the things in life important to them, including time with friends and family.
Scrooge himself eventually comes round to this idea of course. But thankfully it didn't require being haunted by three spirits for us to see the light.
Find out more about our four day week here.
Die Hard! (Dave Shea, Senior NDO)
Definitely a Christmas movie. A thoughtful film that touches on themes of terrorism, explosives, gun control, emergency call handling, buildings and contents insurance, casual recreational drug use, and the legitimacy of cross-border police jurisdiction. HO-HO-HO!
But what John McClane also highlights are the dangers that exist in the home and others places. Everyone – even veteran everyman cops like John – are vulnerable to slips, trips and falls. Broken glass, open or insecure windows, faulty equipment, and much more. All things that can – and does – cause serious injury across Scotland, every day, every year. So why not download our interactive Home Safety Map, and see if you can find the hazards in your home, and avoid bumps, bruises or worse!

Bad Santa (Dave Shea, Senior NDO)
A sexually incontinent, alcoholic fraudster who impersonates Santa Claus doesn't sound particularly cheery. But this dark comedy pushes the protagonist, grudgingly into a touching arc of redemption. It also reminds us of the real world dangers of doorstep scammers, charlatans and imitators; folk who prey on the vulnerable and deceive to steal or take advantage of others. Make sure you – and especially the more susceptible in your community – know what to look out for and what to do, now the days are shorter. Helpfully, our colleagues at Police Scotland have created guidance on doorstep crime and bogus callers. Perfect for reading and sharing!
The Snowman (Dawn Exley, NDO)
A beautiful short film with a haunting soundtrack. More famous in Scotland thanks to an advert for our other national drink!
Make sure and prepare for unexpected weather events (Check out the Ready Scotland website for useful help and advice).

Amongst many others – things to consider are hats, scarves and keeping an eye on your Irn Bru!
Love Actually (Dawn Exley, NDO)
A romantic Christmas classic.
Sadly, with the cost of living crisis raging on, it won't just be Andrew Lincoln on the street holding up a sign this Christmas. Consider making a donation to appeals for the those without a home or shelter this festive season, for example Social Bite or Crisis.
Gremlins (Lorraine Gillies, CEO)
A little off beat, but definitely a Christmas movie!
Sometimes gifts bought with love can cause a lot of suffering!
Don't get wet and don't feed after midnight! and, beware of buying pets from unlicensed/unreputable sources. You never know what you will get!
It was recently reported in the press that illegal puppy farming in Scotland is now worth millions each year to organised crime. So if you're buying a puppy, please check that it's from a properly licensed breeder and cut off this source of funding to serious criminals!

The Polar Express (Lorraine Gillies, CEO)
A heartwarming movie sees a group of children taken on the train ride of their lives to Santa's Grotto!
Between cold weather and ongoing strike action, our train journey's may not be quite so pleasant this year! Make sure to plan your journey in advance and wrap up warm.
You can make sure you stay safe on the railways this year by downloading the British Transport Police's Railway Guardian App.
Deck the Halls (Sandra Black, BSO)
Deck the Halls is a film about the rivalry between two neighbours: Steve & Buddy, Buddy's daughters are working on a computer and show him a website which shows the satellite images of the earth showing how areas are lit up at night. He decides that he wants his house to be seen by satellite and undertakes a mission to ensure that this happens. Buddy feels that his life has been a failure, lending greater importance to this dream!
He begins to set up lights and decorations outside, but has to run an extension cable to his neighbour Steve's house and to steal his electricity illegally. Then he buys up as many lights as he can, as well as a sleigh. When Steve sees it, he is accidentally taken for a sleigh ride by the horse that is dressed up as a reindeer. Steve ends up careering through the town recklessly and falls through the ice on a local pond. This ride could have injured more people and damaged property, but luckily only resulted in Steve being soaked through!
The town, Cloverdale holds a "Winterfest" and Steve is known as 'the Christmas guy'. Buddy takes Steve on with every Christmas challenge and Buddy wins them all, much to the dismay of Steve.
Following the "Winterfest" Steve decides to add more lights to his house. After playing a lightshow, he decides to play it on a loop each night until 2am. A case of antisocial behaviour if ever there was one!
When Buddy discovers that the lightshow will be on a loop he buys illegal fireworks, with army grade launchers amongst them and fires them in the direction of Steve's house. He would have been breaking the law in Scotland as there are rules regarding the times of day and times of year that fireworks can be set off!
Lots more shenanigans follow before finally, Buddy achieves his dream of his house being visible from space!
This film was about jealousy and envy and highlighted how easy it is for your behaviour to become antisocial. It also highlights what happens when trying to impress people as you can easily endanger lives of others in your community. We all know the statistics that there are for injuries when fireworks are used illegally and irresponsibly.
All this said, it comes down to one thing at this time of year and that is to have a wonderful Christmas with your loved ones without spending a fortune or behaving badly. Have a merry Christmas and try to avoid the pitfalls highlighted in this film!