David Barbour

6th April 2022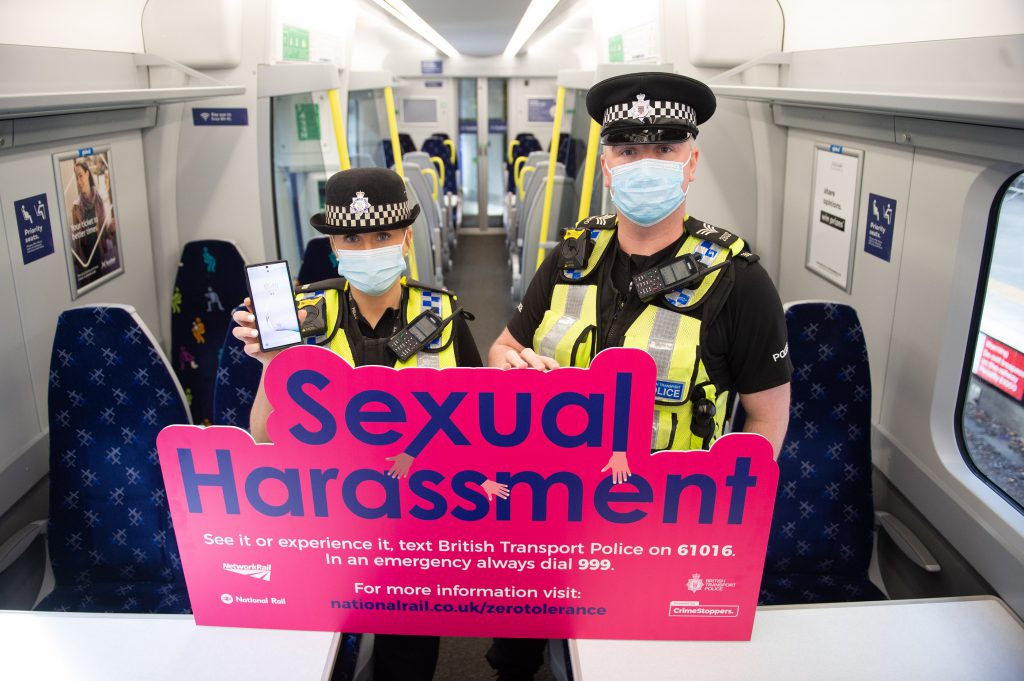 Crimestoppers Scotland, BTP Scotland, Network Rail and the Rail industry raise awareness about what constitutes sexual harassment, encouraging reporting and helping to make sure there is no unsafe space on Scotland's railways.
Research shows people don't realise that behaviours like wolf whistling, leering/staring or deliberately invading personal space are forms of sexual harassment.
Crimestoppers Scotland is today, 31st March 2022, joining with Network Rail, BTP Scotland and the rail industry to tackle sexual harassment by ensuring people understand what constitutes such behaviour. The campaign will also inform people of the action they can take to report sexual harassment if they witness it and thereby help to combat it.
New research shows a lack of awareness about the seriousness of non-physical types of sexual harassment, which can be distressing and frightening for those who experience them. The survey of over 2,500 people, carried out for the Rail Delivery Group by 2CV, reveals just a minority of rail passengers realise that wolf whistling (30%), inappropriate staring (37%) or someone sitting/standing too close on an otherwise quiet carriage (39%) is sexual harassment.
Government research shows that 84% of women and 60% of men in the UK population have experienced sexual harassment in their lifetime. To tackle this, the rail industry is raising awareness about what constitutes sexual harassment with a Scotland-wide social media campaign, information distributed at Scotland's stations – including big screens – to report instances where they feel unsafe. This will make it clear to perpetrators that their behaviour is not tolerated on the railway.
The rail industry expects that promoting a shared understanding of what sexual harassment looks like will help people who see or experience it gain the confidence to speak. This will help ensure perpetrators are held accountable for their actions and BTP is encouraging reporting to give them a greater opportunity to detect and punish offenders.
Allan Brooking, Community Safety Manager at Network Rail Scotland said:
"Any form of sexual harassment is unacceptable on our railway and in wider society. We want all our customers to feel confident that they can use the railway without feeling unsafe, violated, or intimidated.
This campaign will contribute to making Scotland's Railway safer, ensuring people understand what constitutes sexual harassment and what actions they can take to report sexual harassment.
We are working closely with Crimestoppers, BTP and the wider rail industry to demonstrate how we can all play our part in keeping each other safe and show that this type of behaviour will not be tolerated on our network"
BTP Detective Chief Inspector Arlene Wilson said:
"Sexual harassment is anything that makes you or anybody else feel uncomfortable with a sexual element.
"This campaign is about educating people on what is not acceptable and how to report it, so we can work together to make the rail network a hostile environment for sexual harassment. Each report we receive provides us with valuable information which we can use to build an accurate picture of an offender and take action.
"We need to work together with the community to tackle this behaviour and create this hostile environment to discourage people from behaving in this manner.
"If you look at the root cause of some the behaviours around sexual assault it all stems from sexual harassment.
"We urge anyone who experiences or witnesses sexual harassment to text us on 61016, whether something is happening at the time or has happened recently. Save 61016 in your phone, so you have the number to hand should you ever need us. No report is too small or trivial, and we will always take you seriously."
Jacqueline Starr, Chief Executive of the Rail Delivery Group, said:
"Every form of sexual harassment is serious and actions like leering, sitting unnecessarily close or making sexual comments are unacceptable on our railway and in wider society. As an industry, we're committed to ensuring there is no unsafe space on the railway by showing the small number of perpetrators that they are not welcome on trains and at stations. The British Transport Police will hold them to account to make train journeys safer for everyone."
The campaign reminds passengers that they can contact BTP via text to report any cases of sexual harassment that they witness. By sending a short message with details of what they've seen to 61016, witnesses can help BTP to identify perpetrators and reduce potential harm for others in the future. In an emergency, always dial 999.
Angela Parker, National Manager of charity Crimestoppers Scotland, said:
"Our charity believes that everyone has the right to feel safe, and that includes when travelling on public transport. Sexual harassment must be stamped out which is why we along with Network Rail Scotland and partners are playing our part in supporting this important campaign.
"If you are uncomfortable about reporting someone you know who is responsible for sexual harassment, remember that you can speak up completely anonymously by calling the railway's sexual harassment line which is powered by Crimestoppers on 0800 783 0137. We guarantee no one will ever know you contacted us and you will be helping to protect others from the harm caused by this unacceptable criminal behaviour."