David Barbour

20th October 2021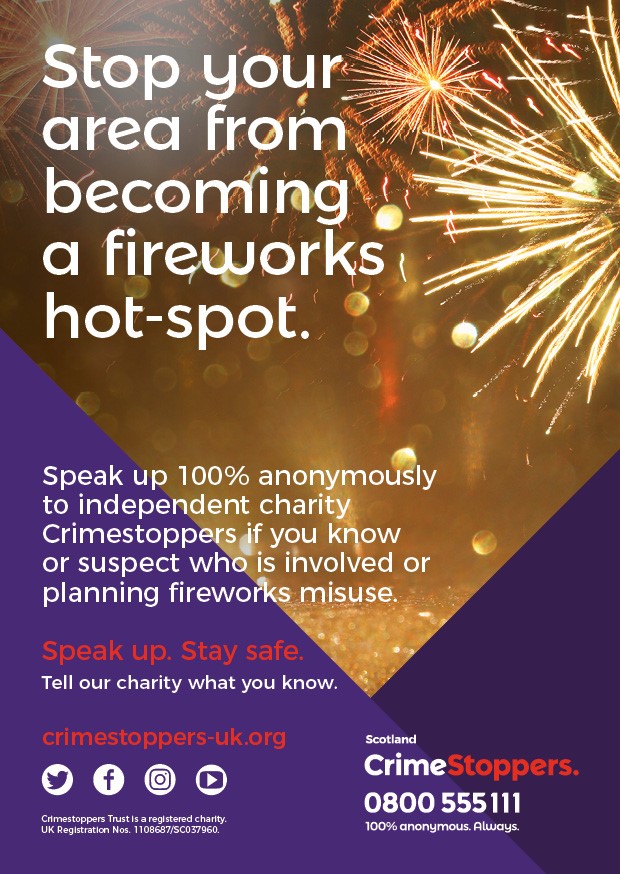 Appeal to young people to anonymously speak up as charity Fearless.org helps stop fireworks misuse
Fearless.org – the youth programme of independent charity Crimestoppers – has today launched its annual fireworks misuse campaign at Scotland's biggest school – Holyrood Secondary School in Glasgow.
Alongside Police and Scottish Fire Rescue Service, the youth charity welcomed Minister for Community Safety, Ash Regan MSP, to see first-hand the collective approach they're taking to educating young people across Scotland ahead of Bonfire Night.
Supported by Scottish Government's Building Safer Communities, the Fearless campaign aims to raise awareness of both the dangers and impact of firework misuse and deliberate fire-raising and encourage young people to contact the charity 100% anonymously if they know or suspect someone involved.
The campaign reinforces the new regulations in place:
What is fireworks misuse?
Possessing fireworks in a public place under the age of 18
Selling fireworks to anyone under the age of 18
Setting off or throwing fireworks in a public place, such as the street or parks
Casting or lighting fireworks from a private property into a public place, such as the street or parks
Causing unnecessary suffering to animals.
It is now only permitted for the general public to set fireworks off between 6pm and 11pm in the evening (with a caveat that this extends to midnight on 5th November and 1am on NYE, Chinese NY and Diwali)
Fireworks can now only be sold to the general public between the hours of 7am and 6pm and that the quantity of fireworks that can be sold by retailers to individual members of the public is now limited to 5kg.
Whilst Fearless is directed at young people, Crimestoppers will also be using its social media channels to make an appeal to adults who have information about those putting lives at risk by being reckless or dangerous with fireworks.
Lyndsay McDade, Fearless National Youth Projects Coordinator at the charity Crimestoppers, said:
"We're delighted to welcome the Minister for Community Safety, Ash Regan, along to Holyrood Secondary School today to showcase some of the great work that we've been doing with partners to prepare young people all across Scotland for Bonfire Night.
"It's incredibly important that young people keep themselves safe and know the dangers of fireworks. The period around Bonfire Night can be a time of much anxiety and fear for some people as a direct result of fireworks misuse and instances of anti-social behaviour.
"Our campaign really focuses on reminding young people that they can play their part in reducing that fear by behaving responsibly, considering others and speaking up 100% anonymously at Fearless.org if they know or suspect who is responsible."
Minister for Community Safety, Ash Regan MSP said:
"The Scottish Government's ambition is for all of Scotland's communities to be safe places for everyone to live, work and enjoy. We all have a part to play in making that vision a reality.
"Fireworks can be hugely damaging and distressing and that is why it is now illegal for the general public to set off fireworks before 6pm and after 11pm; this is extended to midnight on 5th November. This is an important step forward in tackling the misuse of fireworks and I encourage anyone who witnesses or has information about criminality relating to fireworks to report it, so that action can be taken to prevent further harm to our communities.
"Crimestoppers and their important youth programme Fearless, provide a unique reporting service which allows you to provide information anonymously and this will help to prevent, detect and solve crime within communities."