David Barbour

1st October 2020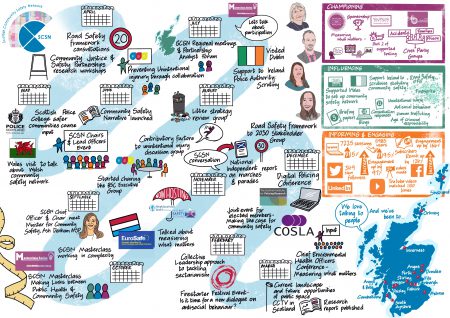 It is a great honour to introduce the SCSN Annual Report for 2019/20,my first as Chair Person of the Board of Directors. My first year has been made so much easier from the excellent work by our previous Chair Mark McCall, our Board of Directors and our staff team.
The focus of our work is driven by our Strategic Plan and the Board of Directors and I are extremely proud of the work the team has done over the last year. The focus of work in this annual report has been on 'Making the Case for Community Safety' and our team consisting of Hannah, Dawn, David, Mariah, Josh and Shona led by Lorraine have achieved so much over the course of the year. I was fortunate to be at a number of events and my highlights include the masterclass on Public Health and Community Safety, the joint SCSN and COSLA event for elected members and the Firestarter festival impact on 'is it a new time for a dialogue on antisocial behaviour?'
SCSN cannot do the work without a range of support from people and organisations across Scotland (and beyond!), I am extremely grateful to our members and Scottish Government for their continued financial support allowing the excellent work to continue.
Sadly, worldwide events over the last several months have shone a spotlight on how we as community safety practitioners and as an organisation have reacted. In terms of COVID-19, SCSN has adapted well to the challenges of home and remote working and I see from our regular dialogue with members that as well as new challenges in our work places to support the communities we work and live the community safety picture is more important as we look to support our communities and navigate out of the pandemic.
The death of George Floyd has saddened and shocked many of us and has forced many of us to ask ourselves what we can do to tackle
racial discrimination and embedded inequalities across society. We as a board and organisation acknowledge that we need to work even harder to promote diversity within the organisation and across the community safety sector. We do not have all the answers however there is a commitment from the Board that during the forthcoming months we want to listen, learn and improve and will provide updates to our membership in the coming months.
Ian Hanley SCSN Chair Person