David Barbour

15th July 2020

by Nicola Hanssen, Chief Executive, Roar Connections for Life
For me, community safety isn't about 'safety-ism', it is about enabling people and communities to flourish. We know that loneliness and falls are two of the most prevalent forms of unintentional harm and now older people's risk of both has skyrocketed as a result of the pandemic. Roar's organisational approach appreciates the correlation between safety, health and humanity. Our delivery is focussed on the intersection between these overlapping elements. My huge frustration before lockdown was the over-dominance of the medical model and how this translates into ridged and inflexible systems and sets of expectations about what is important and places the avoidance of disease in a context-less bubble. This 'western-world' view is difficult to argue against because 'don't smoke, keep physically active, practice the Highway Code are 'the safest options' but it rarely resonates with the complexities of our lives.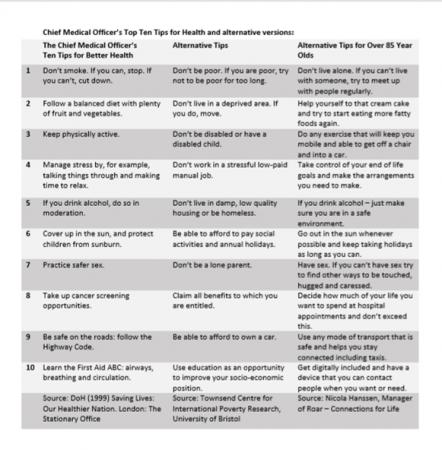 Sir Michael Marmot explores this in his book, The Health Gap[1] where he cites a set of 10 alternative top health tips, if you are poor, developed by the Centre for International Poverty Research at Bristol University. [2] This inspired me to write an alternative top 10 health tips, if you are over 85 (I don't actually believe in pigeon holing people by age so take the number with a pinch of salt), aimed at urging clinicians and policy makers to see how an older person, who is running out of time and health, no matter which way you look at it, may want to maximise their possibilities, not just avoid harm.
The Covid19 pandemic has made us all examine our lives and the balance of risks we face as individuals, families, communities and nations. We have, in some ways, a far better understanding of the need to juggle the decisions we take and how profound the consequences are on other factors beyond reducing the spread of the virus. As we reimagine and renew (seems to be the new terms) I want to urge people to take a fresh look at our approach to balancing risk with what a good life looks like. Families and communities have a huge role to play in this balancing act but this needs to be supported by the policy and resource frameworks created by society. We need to work in partnership across the spectrum of our institutions to test the assumptions about who we are protecting and from what!? What do we really feel about rights and responsibilities and how we should actively sign up to play our parts in enabling a culture that leads to better lives? I lead an organisation supporting older people but I am equally passionate about the rights of young people. The pandemic has surely shown us how inter- connected and dependant on each other's actions we are – no one should be allowed to be a covidiot. We are justifiably outraged by public figures who appear to think the 'rules don't apply to them' but how many of us can say that we are never selfish when it comes to making sure our nearest and dearest are ok, even when we know this could be affecting others?
It's messy and its difficult and no one has a snappy script that fixes the complexity to replace Stay Home, Save Lives, Protect the NHS as we venture forward. We need to empower people to ask better questions of themselves and others. How about these few examples?
Having the conversation with dad about his driving will make me unpopular and he won't be receptive to it, if he has to stop driving it may strip him of his ability to get about, he'll be at risk of being lonely and I might end up having to drive him to all his appointments but I'm really not sure if he is safe.
This is a dilemma happening all across the county right now. What is the potential cost on someone else's life or the emergency services if we don't take a fresh look at this dilemma? Are we really waiting for his GP to tell him? There are options but neither she nor Dad know about them. How about investing in more opportunities to take a test, attend an exercise class to strengthen leg muscles, aid mobility of neck muscles, sharpen reaction times and link in with mens support groups where they can go through giving up together?
Mum's been quite happy really during the pandemic, yes she missed her routine but she is much safer at home, I get her shopping and I've shown her how to use her Facetime, she gets to speak to the family and she's got her garden so this is her safest option.
Another dilemma for many families, but is this right? Mum will say yes because she doesn't want to inconvenience you and she is really anxious of the world out there and all the changes however mum's risk of falls and frailty is rising daily. If she has a fall will she know how to get up and will it be the 'long lie' rather than the fall itself that means she needs to be admitted to hospital, she is likely to lose her ability to do a sit to stand and need personal care. I think we need a new dialogue on this dilemma. Almost no one want their life to shrink to a chair and that if mum could be helped to see how important her strength and balance is to her confidence, dignity and wellbeing she might overcome her fear, join a class, meet others, hear new chat and start to have a life beyond you and her 4 walls again?
I'm a really independent 87 year old, I follow the news, I've heard all the official advice and I'm not going to let this hold me back.
Great! But we still need a fresh look! What this older citizen doesn't know is that the facemask, acquired online, might cause some other challenges such as not being able to see where you are placing your feet as you step onto the bus, that your specs steam up, and that the action of 'donning and doffing' unless you have practiced, could mean your hands being up at your face repeatedly as you touch the surfaces around you. Your balance and grip strength have deteriorated much more than you think and when you try to reach and hold the bus handle you miss and you fall. Well how about we make sure this hits the news? That organisations are supported to give older people an MOT to make sure they have practiced walking up their stairs at home with a facemask, that their strength and balance matches their passion for life and look at other ways we can reduce their risk of very unintentional harm?
Life has never been fuller of dilemmas but we can resolve many more of them if we start talking now. Let's not miss this opportunity.
[1] https://www.bloomsbury.com/uk/the-health-gap-9781408857991/
[2] https://www.bristol.ac.uk/poverty/healthinequalities.html