David Barbour

6th June 2020
Almost a third of those in Scotland either have already or are considering buying an electrical beauty product from an online marketplace during lockdown
Those looking to replicate the hair salon experience at home during lockdown risk more than just a dodgy haircut, a Charity is warning.
An investigation by consumer safety charity Electrical Safety First has discovered hair clippers, hair remover kits and other beauty salon electrical items for sale on eBay, Amazon Marketplace and Wish that are unfit for sale to UK consumers as advertised, putting them at risk of electric shock and fire.
With hairdressers closed, millions are looking to cut their own hair as analysis of Google Trends data shows web searches for hair clippers at an all-time high in April[i].
This trend is reflected in consumer behaviour as new research by the Charity reveals almost a third (31%) of adults in Scotland have either already purchased or are considering purchasing an electrical beauty item such as hair clippers or hair remover kits from an online marketplace while salons are closed during lockdown[ii].
As part of a snapshot investigation, 15 listings were visually analysed by the Charity, equally spread across Amazon Marketplace, eBay and Wish. Based on a visual assessment of the listings as they were advertised, all were deemed to be seriously dangerous to the user.
Mains powered hair clippers and electric nail files were found to be frequently advertised without UK plugs, instead being sold with dangerously poor quality travel adaptors for permanent use. This risks severe electric shock or fire.
Home hair removal kits were also discovered being advertised with plugs that are illegal for sale in the UK. The dimensions of these plugs are so small they risk allowing the user to come into contact with the mains power supply when plugging the product in. They are also frequently unfused, risking a fire in the event of a short circuit.
The Charity, which has already called on the UK Government to regulate online marketplaces, is urging consumers to only purchase electrical items from reputable retailers and to avoid buying from third party sellers online.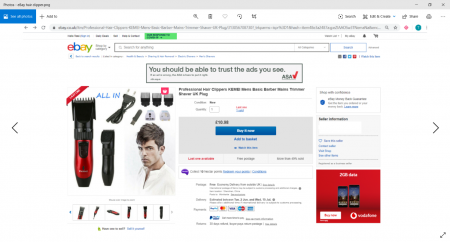 Wayne MacKay, Public Affairs Manager, Scotland and Northern Ireland at Electrical Safety First, commented: "At a time where we're all expected to spend longer indoors it is more important than ever the products coming into our homes are safe. What we have found is an example of third party sellers putting consumers at risk through products that are of particular interest at this time. With so many Scottish residents interested in these items at the moment, we would urge consumers to only buy electrical products from reputable retailers and for the UK Government to continue to give serious thought to better regulating online marketplaces."
A spokesperson for Wish said:
"All of the merchants on our platform are required to adhere to local laws and safety standards wherever their goods are sold. In the rare instance where a product falls below those standards and sufficient evidence is provided, we take the appropriate action to remove the items as swiftly as possible. In some cases, we also apply sanctions to merchants who have intentionally circumvented our policies and safety standards."
Statement to be attributed to an eBay spokesperson:
"These items have been removed and action taken against the sellers.
The safety of eBay users is our priority and we work with organisations around the world including the EU market surveillance authorities and Trading Standards. If any of these authorities informs us that a product is dangerous, we ban it on all our marketplaces globally and inform and educate sellers on the ban.
eBay has measures in place to limit these types of items being listed. Between March 2019 and March 2020, our filters automatically blocked four million listings from entering the marketplace on product safety grounds.
We take enforcement action against any seller found to be in breach of our policies, which can be in the form of a warning, suspension or ban."
An Amazon spokesperson said:
"Safety is a top priority at Amazon. We require all products offered in our store to comply with applicable laws and regulations and have developed industry-leading tools to prevent unsafe or non-compliant products from being listed in our stores."
Notes to editor:
Electrical Safety First is a UK Charity dedicated to reducing and preventing damage, injuries and death caused by electricity. More information can be found at electricalsafetyfirst.org.uk.
Images of the listings were analysed by the charity's technical team and the products deemed to be visually substandard and/or dangerous without the need for test purchasing.
Electrical Safety First contacted all marketplaces directly including; Amazon Marketplace, eBay.co.uk and Wish.com to inform them of the products discovered that were deemed to be substandard and/or dangerous and requested the listing be removed from sale as soon as possible.
Consumer research was conducted via the survey group, Censuswide with a sample of 2009 adults across the UK, 168 of whom were in Scotland. Research was conducted in the field between 11.05.2020 to 12.05.2020. Censuswide abide by and employ members of the Market Research Society which is based on the ESOMAR principles.
For more information please contact:
Joshua Drew T: 07864009875 E: Joshua.drew@electricalsafetyfirst.org.uk
Tom Davies T: 07866702069 E: Tom.davies@electricalsafetyfirst.org.uk
[i] Analysis of Google Trends data whereby the term 'hair clippers' is shown to have reached peak popularity in web searched within the United Kingdom in April https://trends.google.com/trends/explore?date=all&geo=GB&q=hair%20clippers
[ii] Research conducted by Censuswide on behalf of Electrical Safety First whereby 2,009 adults across the UK, 168 of whom were in Scotland were asked the question "Have you already, or are you considering, buying an electrical beauty product (e.g. hair clippers, manicure set, laser hair remover) from an online marketplace (Amazon Marketplace, eBay, Wish etc.) to use during lockdown while hairdressers and beauty salons are shut?" of which 31% of respondents in Scotland answered either "yes I have bought one or more electrical beauty product from an online marketplace during lockdown" or, "I've not bought one but I am considering buying an electrical beauty product from an online marketplace during lockdown".