David Barbour

23rd April 2020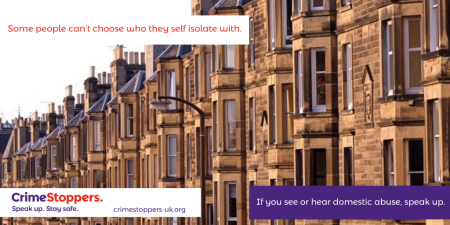 As more people are isolated during the Coronavirus pandemic, the charity Crimestoppers Scotland is launching a new campaign across the country appealing for information from people who are aware of Domestic Abuse happening to friends, family, work colleagues or neighbours.
Domestic Abuse can be physical, psychological, emotional, sexual or financial.
Often neighbours, family and friends may be suspicious, but are reluctant to get involved because of embarrassment, split loyalties or fear of revenge.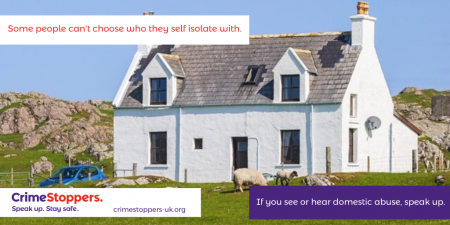 In 2017-2018 there were 59,541 incidents of domestic abuse recorded by Police Scotland. Women made up 82% of the victims.
As an independent charity who has helped millions of people over the years, Crimestoppers is asking those with concerns to pass on what they know whilst staying 100% anonymous. Always.
Angerla Parker, National Manager for charity Crimestoppers Scotland said
"With the Covid-19 pandemic forcing people to stay in their homes, our fear is that rates of domestic violence will rise.
This is a serious crime that leaves victims feeling trapped, alone and powerless. They are often too scared or vulnerable to seek help or speak out.