David Barbour

19th July 2019
Dawn and Lorraine were in Newport last week speaking to Welsh community safety practitioners at the Wales Association of Community Safety Officers annual conference.
WACSO is a group of Community Safety Professionals consisting of representatives from the 22 local authorities in Wales. It works collaboratively across the whole of Wales and is a recognised independent body. The group was established to identify and share best practice and intelligence, discuss areas of concern, consider solutions to key issues and provide views on consultations.
Some WACSO members came to Edinburgh in May to speak to us about our network and asked us to come and help them consider whether a similar model could work in Wales.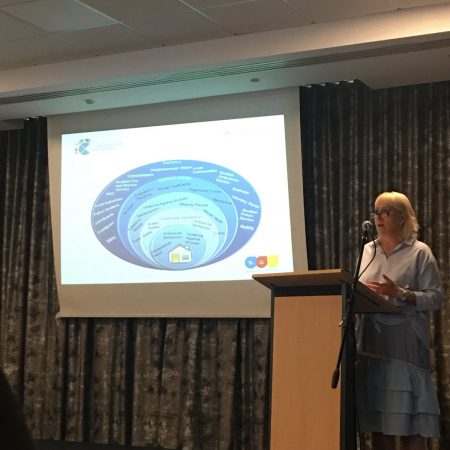 Here's Lorraine (right) making the key note presentation using the diagram we all know about showing the tiers and layers of services in Scotland that make up our community safety landscape.
We were able to hold some workshops to tease out some of the key factors that make us work and also highlight some challenges that they might encounter along the way.
Also on the agenda were some brilliant presentations from
Nick Daines from Omega Communications . They are a specialist consultancy providing services in the field of counter extremism, training and education and delivering d intervention and education programmes designed to support individuals that may be vulnerable to radicalisation and extremist ideologies.
Dusty Kennedy – National Partnership Lead working in Public Health Wales on the Early Action Together Programme; a pan-Wales collaboration introducing trauma-informed practice to the 4 police forces and wider criminal justice agencies. He provides independent consultancy and training, specialising in services for vulnerable people.
Jake Henry from Vibe Youth. Jake and his partner, Karen Carswell set up Vibe Youth to provide a meaningful and relevant source of support to young people – particularly those who are considered challenging or heard to reach.
So, does Wales need a Community Safety Network? We'll keep you posted….