David Barbour

12th September 2018
We've just published our Annual Report for 2017-18.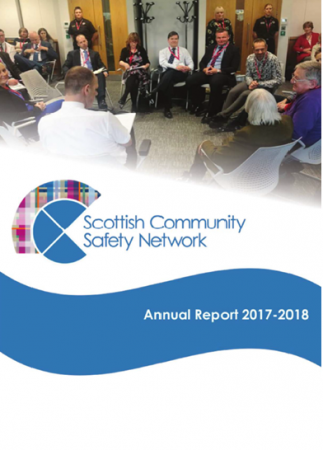 Introducing the Annual Report, SCSN Chair Mark McColl said,
"We have made significant efforts throughout 2017 – 2018 to listen to our member's views and engage with national stakeholders to ensure that the SCSN remains at the heart of influencing the community safety sector at a national and local level.
Whilst traditional community safety activity continues, a number of emerging themes mean we all have to diversify at a time when resources are stretched. Evidencing the impact of the work we do has become critical and has been a focus of SCSN activities throughout the past year. We will continue to support our members to achieve this through a range of toolkits, training, e-learning and facilitating network meetings.
2018 – 2019 will be another challenging year with the continuation of the Building Safer Communities Programme, implementing the recommendations within the report "Community Safety – the emerging landscape and future opportunities", moving further towards the principles of prevention and place based approaches and continuing to represent our members voices at a national level.
Critical to the success throughout the next year will be for SCSN to act upon the outcomes from our stakeholder consultation exercise, to regularly engage with our members and to effectively influence the future direction of community safety work.
I would like to thank our members for supporting us through what has been a transitional year and I would also like to thank our hard working and talented staff who have shown the appetite and commitment to helping make the changes required to be successful in the coming years."