David Barbour

14th June 2018
Latest blog as our Chief Officer, Lorraine Gillies, joins Street Assist out on patrol in Edinburgh recently…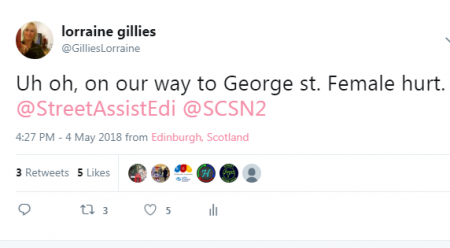 This could have been me 10 years (ahem) ago… I've been worse for wear on George Street in Edinburgh before. I saw it from a different perspective last month during a shift with Street Assist.
Street Assist are an Edinburgh based bunch of (mostly) volunteers keeping YOU safe. You probably didn't know this, you probably haven't noticed them. Let's hope you havent needed them.
Working out of Central Halls, with high viz vests and a fleet of assorted vehicles, they are walking and driving around the streets between 10 and 4ish in the morning on Friday and Saturday nights. Trained to provide first aid and assistance to revellers spewing out of clubs and bars; helping people back on their feet; patching up brawl inflicted cuts and bruises and providing a safe haven to disoriented young uns and not so young uns.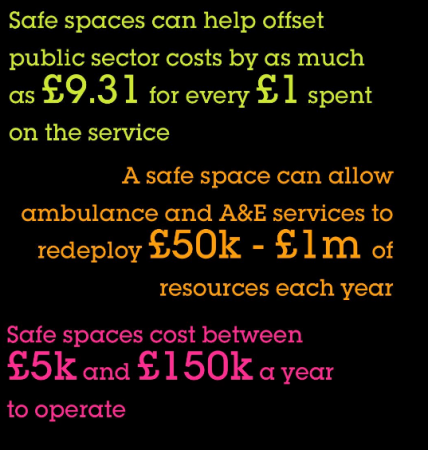 The work that they do not only provides direct help but prevents escalation and more costly trips to A&E and police stations. They are a bonus for all the clubs,  bars, taxi ranks, food take aways out there, Street Assist are at the end of the phone/radio and attend any number of incidents across the town – keeping people safe and also boosting the night time economy.
There is a strong evidence base that supports the work they do. The Portman Group has just published their report on Safe Spaces and some of the figures are staggering.
They invited me to go out with them one Friday night.
Cant thank them enough. I saw first hand the work that they do. I immediately reconnected to some memories best left forgotten.  I got to meet and spend time with a marvellous bunch of volunteers.  I got to live and talk community safety. That's a good night for me!
BTW – the young female was fine. Street Assist patched her up and saw her on her way home in a taxi. There could have been a different outcome.