David Barbour

7th September 2016
Introduction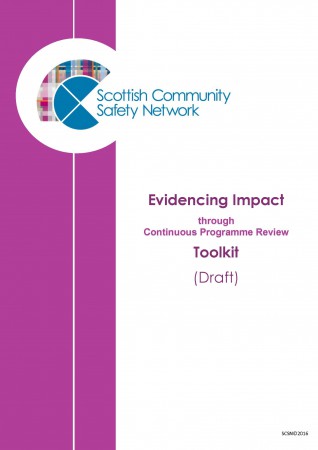 Research undertaken by the Scottish Community Safety Network (SCSN) identified that no matter the size or geographical reach of a project, there was always a requirement to evidence not only the progress but the wider impact of the project.  In some cases this reporting was required as part of the monitoring process set by funders, but in the majority of cases it was linked to evidencing progress in relation to local strategies and business plans.
The community safety sector is a market leader in using evidence to develop local and strategic plans. In addition more and more officers are using SCSN's preventative spend cost – benefit toolkit to show the preventative spend value of initiatives. However this resource aims to guide practitioners on telling the whole story through the use of quantitative data (statistics), the cost benefits (financial) and the impact (wider benefits).
Recognising the importance of demonstrating the impact of the work we do, SCSN established the action learning group with the aim of creating a toolkit to guide practitioners through the evaluation process and support stronger reporting on the impact of a project.
The Action Learning Group created a continuous programme of evidencing impact broken down into six cyclical phases. Each phase is part of a project journey from the initial identification of need, to collecting supporting information, analysis, assessing the impact and reporting.
How to use the document
Each of the six evidencing impact phases are described using flow charts, supported by explanatory notes and links to templates, examples and case studies. The phases can be used chronologically or they can be used individually.
The ethos behind this toolkit is about Evidencing Impact through continuous programme evaluation, therefore we encourage users to reflect and record progress at each stage. This will provide documented evidence of the change and impact of the project throughout the cycle.
You can download the document here or visit the Toolkits and Resources section of our website.