David Barbour

5th September 2016
SAFER COMMUNITIES AWARDS AND PEOPLE'S CHOICE AWARD WINNERS 2016
FIFE WATER SAFETY INITIATIVE NAMED PEOPLE'S CHOICE WINNER!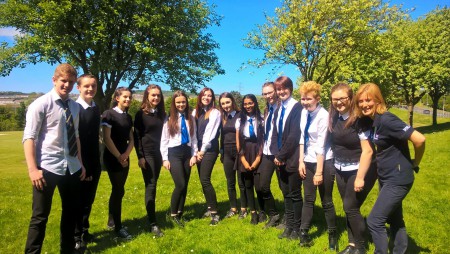 The Scottish Community Safety Network (SCSN) is delighted to announce that the winner of the People's Choice Award 2016 is the Fife Water Safety Initiative! The results were announced at the 2016 Safer Communities Awards Ceremony which took place on Monday 5th September at the Grand Central Hotel in Glasgow. Over 750 votes were cast and the Fife Water Safety Initiative was the run-away winner with more than 42% of the vote.
Overall, nine shortlisted projects were showcased across 4 award categories to around 80 delegates from across the public, private and third sectors. The categories and their winners were as follows:
People's Choice Award
Winner: Fife Water Safety Initiative
'The Fife project' was born out of two teenage boys losing their lives at Preston hill Quarry. It tackles a serious and important issue in a sensitive but interactive way.  Along with the mother of one of the boys killed, Police Scotland, the RNLI, RLSS UK, and the Scottish Fire and Rescue Service put together a hard hitting, fully inclusive resource which targeted every school year group.
'The Fife project' has grown in strength since it was first implemented. It demonstrates community teamwork of all organisations involved with one vision – to save more lives. They began raising awareness of drowning from tragic losses. Now they have Young Ambassadors educating primary pupils, developing skills and creating a sustainable strategy which we are extending out across Scotland.
Gillian Barclay, mother of Cameron Lancaster, who tragically lost her son in a quarry, and who played an integral part in the project, said, "We're really pleased that the project has got the recognition because it's a really important safety message we're putting across. The number of accidental drownings each year is far too high at about 400 per year. For me personally, it's an honour to be part of it and to remember my son in a positive way, so it's very close to my heart."
Early Intervention and Education
Winner: NPS Community Improvement Partnership (Edinburgh)
New Psychoactive Substances cause serious damage to the physical and mental health of users and were identified as the root cause of antisocial behaviour in Edinburgh's communities. The CIP provided a forum to better understand issues through sharing information and facilitating prevention, intervention and enforcement options, allowing multiple stakeholders to deliver common goals.
Innovative Media Campaign
Winner: Scottish Borders Rural Crime Prevention
We took theft prevention to the heart of our farming community resulting in a 62% reduction in the value of theft.  We want to continue making an even bigger impact.
Strengthening Community Engagement and Resilience
Winner: Freestyle Environmental Visual Audit (FEVA)
FEVA is an intergenerational environmental initiative, delivered through Newton Primary School, in Ayr.  Pupils were supported to undertake an environmental audit of their community, and then requested partners help in addressing problems and issues.   Parents and families were involved and helped to communicate important environmental and safety messages in the community.
Wider Partnership
Winner: #Stronger North
Formed in response to a community call for action following a serious assault in North Edinburgh, #StrongerNorth brought together a wide range of people to work together across professional boundaries.  They used social media as a two way communications tool, and engaged with community reps to agree strategies and joint actions on the ground.
In recent weeks we have heard through the media of the devastating impact of fatalities at events and around open water; we have moved by the real life stories victims of online exploitation, and reminded of the growing challenge of addressing NPS use and underage drinking. This years award winners and finalists showcase real responses to real issues that affect communities the length and breadth of Scotland.
The Safer Communities Awards recognise the outstanding innovative work being undertaken to empower local communities, to raise awareness and change behaviour in order to reduce risks to individuals and others lives and make Scotland a safer place to live.
Jacqui Doig
SCSN Manager
Notes to editors:
Safer Communities and People's Choice Awards
Every 18 months, the Scottish Community Safety Network (SCSN) holds the Safer Communities Awards. These awards recognise the high quality, innovative work being carried out to empower local communities and make Scotland a safer place
The People's Choice Award is a public vote and the winner receives a cheque for £2,000
Scottish Community Safety Network (SCSN)
SCSN is the national forum for officers who are responsible for the strategic development of community safety at both local and national level.
SCSN works towards the vision that: People are safe from crime, disorder, danger and free from injury and harm; and communities are socially cohesive and tolerant; are resilient; and able to support individuals to take responsibility for their wellbeing.
To find out more about SCSN, please contact our Communications Officer David Barbour on 0131 225 7772 or email david.barbour@scsn.org.uk