David Barbour

18th July 2016
FOR IMMEDIATE RELEASE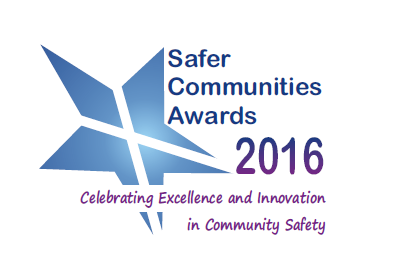 18TH JULY 2016
SAFER COMMUNITIES AWARDS 2016 – Voting for People's Choice Awards now open
The Scottish Community Safety Network is pleased to announce the Safer Communities Awards 2016.
Early Intervention and Education
Water Safety (Fife)
This initiative helps young people understand risks around water, the impact of their behaviour and has developed a sustainable way of protecting themselves and the community
NPS Community Improvement Partnership (Edinburgh)
Identified innovative solutions to the issue of New Psychoactive Substances, influencing local and national legislation and delivering the best possible outcomes for the communities we serve.
Child Exploitation and Online Protection (Lanarkshire)
A preventative, interactive, educational campaign that protects Scotland's children/young people from the online dangers of child sexual exploitation, cyberbullying and radicalisation
Innovative Media Campaign
You're Asking For It (North Lanarkshire)
Protecting children from exposure to alcohol is a priority. 'You're Asking For it' made adults aware of the consequences, not just for our children's wellbeing but for the wider community
Rural Crime Prevention(Scottish Borders)
We took theft prevention to the heart of our farming community resulting in a 62% reduction in the value of theft.  We want to continue making an even bigger impact.
Strengthening Community Engagement and Resilience
Community Watch (Perth and Kinross)

This initiative has given communities and organisations a bespoke messaging platform to share information which has improved community engagement, helped prevent crime and as a result people feel safer
Freestyle Environmental Visual Audit (South Ayrshire)

FEVA is a collaborative, inclusive initiative and led by young people, making real, positive, immediate impact to our environment. FEVA continues to promote positive environmental and safety messages in our community.
Wider Partnership
#Stronger North (Edinburgh)

We created genuine multi-agency working, putting professional differences aside and really  worked together to make things happen on the ground, while harnessing the enthusiasm and commitment of the community to make a difference
Safety Advisor Group (Scottish Borders)
The Safety Advisory Group process provides a structured process for event organisers to follow to ensure that the safety of participants and members of the public is treated as a priority.
Jacqui Doig SCSN Manager said:
'Every day of every year partnerships in the private, public and voluntary sector are working to make Scotland a safer place to live, work and play. These awards celebrate and showcase the outstanding work being undertaken across Scotland to raise awareness and change behaviour in order to reduce risks to individuals and others lives. In order to reflect the broad scope and nature of different initiatives carried out across Scotland, SCSN promoted four distinct award categories, attracting a range of applications which demonstrated innovative, new and emerging practice. Indeed it was a real challenge for the judging panel to shortlist projects for each of the categories. I am sure those who vote via the Peoples Choice will face a similar challenge.
All shortlisted projects have now been entered into the People's Choice Award. The People's Choice Vote allows the public choose the project that should win across all categories, and receive £2000. To vote click here or visit SCSN website at www.safercommunitiesscotland.org.uk. The winners in each category will be announced at the Awards Dinner on the 5 September 2016.  To book your place visit our website.
Voting is open until midnight on the Sunday 14 August 2016.
ENDS
Notes to editors: Safer Communities Awards shortlisted projects
Early Intervention and Education
'Being short listed for a Safer Communities award is a great honour. 'The Fife project' has grown in strength since it was first implemented. It demonstrates community teamwork of all organisations involved with one vision – to save more lives. We began raising awareness of drowning from tragic losses. Now we have Young Ambassadors educating primary pupils, developing skills and creating a sustainable strategy which we are extending out across Scotland'. – Christie Burnett  RoSPA
NPS Community Improvement Partnership (Edinburgh)
'We are delighted that Edinburgh's Community Improvement Partnership, established to address New Psychoactive Substances, has been shortlisted for a Safer Communities award. NPS use in Edinburgh was a complex problem with many interdependencies. The health harms and wider societal impacts damaged Edinburgh's communities, disproportionately affecting the most vulnerable. The CIP was instrumental in enabling stakeholders to fully understand the issues and identify effective ways to address them, delivering positive outcomes'. – Supt Liz McAinsh Police Scotland
Child Exploitation and Online Protection(Lanarkshire)
 'On behalf of the officers and partners involved in this project I would simply like to say thank you. As the parent of a teenager I know just how important this work is. To have it recognised at a national level will further motivate the team and I hope this child protection campaign is mainstreamed throughout Scotland'.  
– Insp Andy Thomson Police Scotland
Innovative Media Campaign
You're Asking For It (North Lanarkshire)
'I am delighted 'You're Asking For It' has been recognised by the awards committee. This campaign has been an excellent example of partnership working; key to its success has been the willingness of agencies to fully support the objectives. The creative use of vibrant advertising and innovative 'clean-graffiti' significantly increased local awareness. It is testament to its success that the campaign has now been implemented in other areas of Scotland'.  – Insp Alistair Anderson Police Scotland
Rural Crime Prevention(Scottish Borders)
 'It was fantastic to be short listed for these important awards.   Rural theft can cause farms a lot of disruption so whilst pleased with the 62% reduction in the value of theft we will continue to strive for an even greater impact.This project fully embraces fundamental principles around resilient communities and keeping people safe from crime and danger, so it is especially pleasing to get recognition from SCSN.'                                                        
– Sgt Justin Hulford Police Scotland
 Strengthening Community Engagement and Resilience
Community Watch (Perth and Kinross)
'Everyone behind the project was delighted to see it make the shortlist. A lot of hard work has gone into creating this community messaging service and it has fostered a real partnership approach. Over 1000 people have signed up already and that number continues to grow. Being shortlisted gives well deserved recognition to those involved in driving the project forward for it to fulfil its potential in the community'                                                                             – Sgt Amanda Nicolson Police Scotland
Freestyle Environmental Visual Audit (South Ayrshire)
 'FEVA has taken a lot of time, effort and commitment from all involved, and has been extremely worthwhile.    It has impacted positively on pupils, our local environment, and has built positive relationships with the community and wider partners. It has also helped to establish wider positive engagement with families.  It is a great honour and very exciting for this work to be recognised, and shortlisted for this award'.                                         
– Fiona McAvoy Head Teacher Newton Primary
Wider Partnership
#Stronger North (Edinburgh)
 'We're delighted to be given this opportunity to showcase the hard work and dedication of officers and staff from Police Scotland, City of Edinburgh Council, the Childrens Reporter, and Fire & Rescue Service, and the hugely committed community from North Edinburgh'. 
Peter Strong City of Edinburgh Council
Safety Advisor Group (Scottish Borders)
 'During the last four years Scottish Borders Council has worked towards ensuring that event organisers understand they are responsible for the safety of people at their events. We have worked with partner agencies to introduce the Safety Advisory Group process. Event organisers are invited to attend these multi-agency meetings where guidance and assistance is provided. Scottish Borders Council is delighted that councils throughout Scotland are adopting this process'
– Kevin Sewell Scottish Borders Council
Scottish Community Safety Network (SCSN)
SCSN is the national forum for officers who are responsible for the strategic development of community safety at both local and national level.
SCSN works towards the vision that: People are safe from crime, disorder, danger and free from injury and harm; and communities are socially cohesive and tolerant; are resilient; and able to support individuals to take responsibility for their wellbeing.
To obtain images of the shortlisted projects and key local contacts, please contact our Communications Officer David Barbour on 0131 225 7772 or email david.barbour@scsn.org.uk