We've just published our latest Business Plan to take us forward over the period covering the next few years.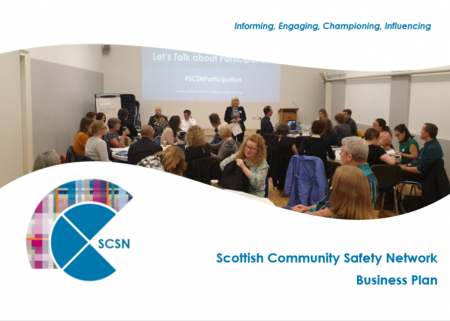 We are funded by the Scottish Government and our members. Our current Strategic Plan has three outcomes underpinned by some short, medium and longer-term aims.
The Scottish Government funds us to make progress in delivering our strategic plan, but also to deliver five additional things for the funding period 2019-20. Many of these have clear links to our strategic plan outcomes.
SCSN will support the Building Safer Communities (BSC) ambition
SCSN will progress development of a mutually beneficial corporate partnership with Neighbour Watch Scotland
SCSN will support learning and good practice across the community safety sector and other relevant landscapes
SCSN will champion community safety by 'Making the case for Community Safety' across a wider range of policy landscapes, developing our membership model and enhancing our communication reach
SCSN will effectively evaluate the work that we do and promote better evaluation methodologies
SCSN will continue to seek alternative sources of revenue
This Business Plan provides detail on the actions we will take to deliver on both.