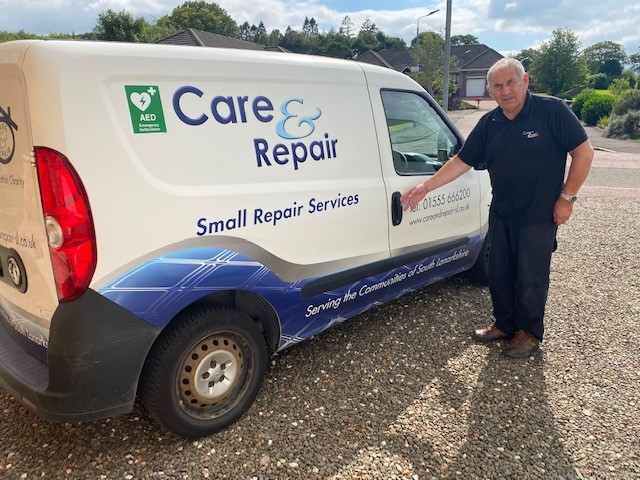 Care & Repair in Lanarkshire has been announced as winners of the inaugural Mark McCall Home Safety Fund. The announcement was made at the latest meeting of the Cross Party Group on Accident Prevention and Safety Awareness at the Scottish Parliament on Tuesday 21st March.
Care & Repair will receive £3,000 in funding towards their 'Safe As Houses' Project. The Project will provide a home safety risk assessment and advice service to parents or full-time carers of pre-school age children to mitigate against hazards in the home that may result in an unintentional injury.
In addition, the project will provide home safety equipment where a need is identified and the individual is unable to meet this cost.
Background
Research published by the Scottish Community Safety Network (SCSN), as well as data shared by the Royal Society for the Prevention of Accidents (RoSPA), Public Health Scotland (PHS), the World Health Organisation (WHO) and others shows "falls are the second leading cause of deaths worldwide". Unintentional harm and injuries at home also include a tragic list of poisoning, choking, drowning, cuts, burns, strangulation and others. The young (under-fives) and elderly (over 65s) are most at risk, and 94% of accidental deaths take place in our most deprived communities.
The global pandemic changed our relationship with the home. Whether by choice or necessity, more people are now spending more time at home. Lockdowns, self-isolating when sick and changes to how we work have all driven these changes. As RoSPA highlights, "because accidents happen behind closed doors in isolated incidents, they rarely attract media attention".
Furthermore, as the current cost of living crisis cuts deeper through our communities, families and services access to essential safety equipment, support and resource is becoming far more limited, or unavailable – making projects like 'Safe As Houses' by Care & Repair in Lanarkshire ever more vital.
Jamie Burgess, Care & Repair in Lanarkshire Manager, said:
"We were delighted to hear that we had been successful with our application to this fund – when Lorraine called me it really brightened up my day. We are starting a project on 1st April to identify and assist children under the age of 5 who are referred to us from partner agencies and from self-referrals. We will visit homes, carry out a survey, identify hazards and eliminate them or mitigate them by offering safety advice, removing the hazard and/or installing equipment that will mitigate hazards.
We intend to use the funds to enable us to provide a wider range of equipment that we can install in children's homes free of charge. Children should be safe at home and if we are able to help to create a safer home and reduce unintentional injuries within the home for children then we feel we are doing our job."
Lorraine Gillies, Chief Executive of the Scottish Community Safety Network, said:
"The Scottish Community Safety Network marked its 25th anniversary last year. We celebrated 25 years of working in partnership across Scotland to create, develop and support safer communities. At our anniversary event, we announced the launch of the Mark McCall Home Safety Award. Mark was a highly regarded manager at Fife council, was the SCSN chair and was a friend to many of us.
As his legacy, SCSN, ROSPA and Fife Council created the award to fund actual equipment, installed safely in households with young children – something evidence tells us is needed and effective. We had substantial interest and I'm delighted that the winner is Care and Repair in Lanarkshire – worthy recipients of what we hope will be the first of many awards from this fund."
Elizabeth Lumsden, Community Safety Manager, RoSPA Scotland said:
"RoSPA is delighted to have contributed to the Mark McCall Home Safety Fund and hope it will develop beyond this inaugural year to become an established fund available to practitioners in the future. We wish Care & Repair in Lanarkshire every success in implementing the distribution of safety equipment and crucial home safety advice to those families with young children who are most in need and look forward to hearing about the outcomes."
Bill Harley, Project Officer at Safer Communities Fife, said:
"Fife Council, Safer Communities are delighted that this fund has been established as a memorial to our friend and colleague Mark McCall who achieved so much in the pursuit of reducing unintentional harm in the home.  The award of this fund to Care and Repair in Lanarkshire will continue his desire to keep children safe.  We look forward to helping to facilitate the group to take forward their project in this area of work."
Next funding round
The Mark McCall Home Safety Fund Partners intend to continue the fund for another year in 2023/24.
We will provide updated information on this website and social media when we have agreed timelines.
In the meantime, if you have questions about the Mark McCall Home Safety Fund, please email hss@scsn.org.uk