Home Safety News
This page contains the latest news updates from the world of home safety in Scotland. Scroll down the page to find updates as we get them!
---
SAVE THE DATE! Next Home Safety Scotland Forum announced
The next Home Safety Scotland meeting will be on Wednesday 5th May 13:00 – 15:00. It will be a great opportunity to listen to experts working in the field, network and to share best practice. The following speakers will be attending:
Lorraine Gillies, Chief exec at SCSN – Introduction
Errol Taylor, CEO at RoSPA – Safety in the built environment from a RoSPA perspective
Anna Pearce, Senior Research Fellow at the University of Glasgow – Social inequalities in unintentional injury in young children in Scotland (and how to tackle them)
Dr Margaret Callaghan, Independent Research and Writer – Explaining new home safety research and Illustrated map.
We are also asking if attendees can provide a 2-3 minute update on work they have been doing around home safety in the past few months. Please email josh.box@scsn.org.uk if you would like to update at the meeting.
You can book your place here.
---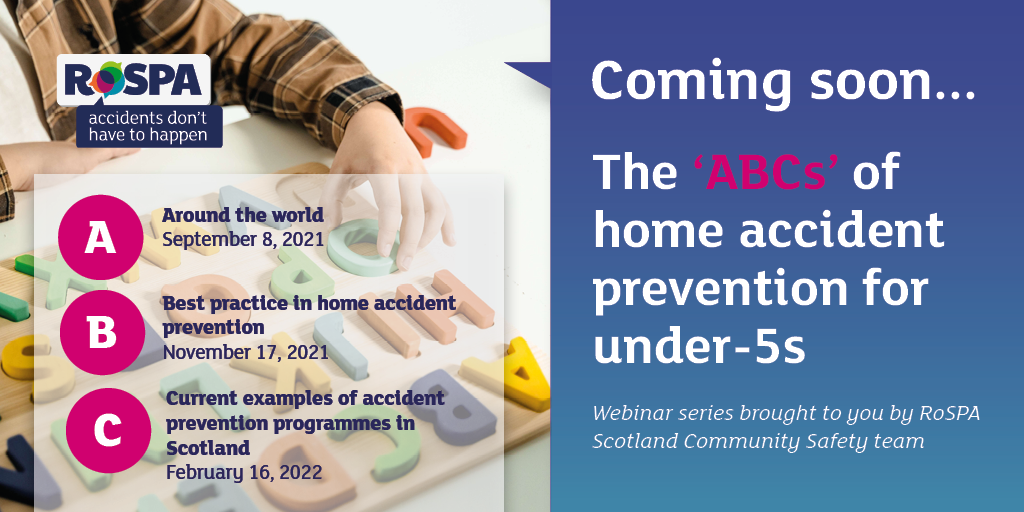 New RoSPA home safety webinar series
Over the next few months, RoSPA will be hosting a series of webinars on making homes safer for young children. The webinar series begins on 8 September 2021, and will be kicked off by Community Safety Minister Ash Denham.
To book your place on the first webinar, click here.
---