David Barbour

13th February 2023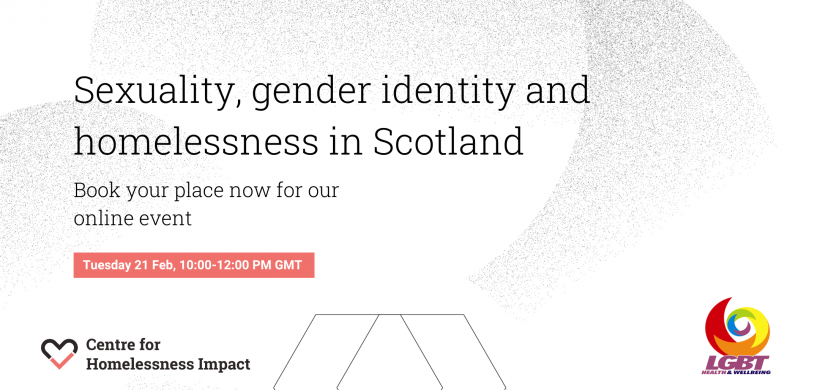 Join LGBT Health & Wellbeing and the Centre for Homelessness Impact to discuss sexuality, gender identity and homelessness in Scotland
Join LGBT Health & Wellbeing, LGBT Youth Scotland, Simon Community Scotland and the Centre for Homelessness Impact for an event discussing how best to support the needs of people who experience, or are at risk of, homelessness and identify as LGBTQ+
We are delighted to announce our speakers:
Chair: Mark Kelvin, CEO of LGBT Health & Wellbeing
Heather McCluskey, Implementation Lead at the Centre for Homelessness Impact
Stella Kyalikunda, Development Worker (Refugee Project), LGBT Health & Wellbeing
Louise Burke, Digital Learning & Development Coordinator, Simon Community Scotland
LGBT Youth Scotland (TBC)
Event address
This event will be hosted online, via Zoom.
About us
LGBT Health & Wellbeing
Established in 2003, LGBT Health and Wellbeing works to improve the health, wellbeing and equality of lesbian, gay, bisexual, and transgender (LGBT) people in Scotland.
We provide support services, social events and develop resources so LGBT people can address the health issues that impact their lives and connect with their local communities. We address health inequalities with a wide range of partners to ensure LGBT people have access to quality healthcare that is inclusive of their needs. www.lgbthealth.org.uk
LGBT Youth Scotland
We are Scotland's national charity for LGBTI young people, working with 13–25 year olds across the country. We also deliver the LGBT Charter programme to schools, organisations and businesses.
Our goal is to make Scotland the best place to grow up for lesbian, gay, bisexual, transgender and intersex young people. We play a leading role in the provision of quality youth work to LGBTI young people that promotes their health and wellbeing, and are a valued and influential partner in LGBTI equality and human rights. www.lgbtyouth.org.uk
Simon Community Scotland
Simon Community Scotland is Scotland's largest provider of homelessness services, with outreach and residential services across Glasgow, Edinburgh, Perth and central Scotland.
We provide information, advice, care, support, accommodation & homes to people experiencing, or at risk of, homelessness. We meet people where they're at. We walk alongside them. www.simonscotland.org
The Centre for Homelessness Impact
The Centre for Homelessness Impact is an independent organisation that supports the use of data and evidence in bringing about a sustainable end to homelessness.
Good decision-making should be informed by the best available evidence of what works. As a member of the What Works Network, they support organisations in the field of homelessness and beyond to make evidence-led decisions and adopt evidence-led practices.
Further information about the Centre for Homelessness Impact can be found at homelessnessimpact.org