David Barbour

23rd August 2023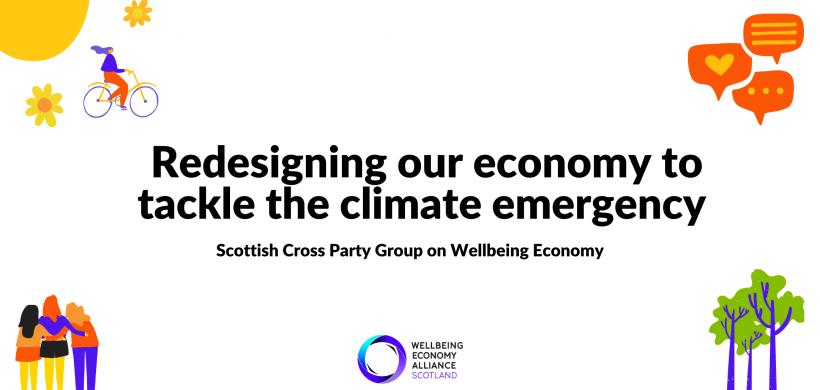 Join us for an inspiring conversation about how we can tackle the climate emergency and build a better economy in the process.
The current design of our economy with its reliance on fossil fuels and relentless focus on GDP growth has been a key driver of the worsening climate emergency. To tackle the climate emergency and rapidly reduce our emissions we need to redesign our economic approach both in Scotland and beyond our borders.
Join the Cross Party Group on Wellbeing Economy as we discuss the need for a new economic approach that can deliver rapid reductions in greenhouse gas emissions in a way that is just and enhances our wellbeing. Everyone is welcome!
We have got an exciting line-up of speakers who will bring a diverse set of insights on economy and the climate emergency and answer your questions:
Speakers:
Ann Pettifor is an economist and Director of Policy Research in Macroeconomics (PRIME) and currently sits on the Scottish Just Transition Commission. In 2008 she jointly co-authored the original The Green New Deal (New Economics Foundation) and has subsequently published books on The Case for the Green New Deal (Verso, 2019) and The Production of Money (Verso, 2017). In 2020 she accepted an invitation to chair the board of directors of A-Deus, an innovative, community-based clean energy company, based in Edinburgh.
Keith Bell, Professor for Electronic and Electrical Engineering at the University of Strathclyde, is a member of the Climate Change Committee and a co-director of the UK Energy Research Centre. He has been at the University of Strathclyde since 2005, was appointed to the Scottish Power Chair in Smart Grids in 2013 and has been involved in energy system research in collaboration with many academic and industrial partners.
Aileen McLeod is the interim director at the Wellbeing Economy Alliance Scotland. She has spent many years in public policy advocating for and advising on the Wellbeing Economy agenda both in Scotland and at the EU and international level. She has served in the Scottish Government as a Minister for Environment, Climate Change and Land Reform; in the Scottish Parliament as MSP for South Scotland; and in the European Parliament as an MEP representing Scotland.
———–
How to Join
The event will be held in person in the Scottish Parliament. Please register by Monday, the 18th of September if you would like to attend. We would like to encourage you to attend in person, if possible, but there will also be an option to join online on MS Teams. If you register for an online ticket, you you will receive an email shortly before the event with the link to join.
Please note that the doors will open at 6pm for people to come and socialise, with the main meeting starting at 6.30 pm. We would like to ask you to arrive by 6.20 pm at the latest so that we can make a prompt start.