David Barbour

4th September 2023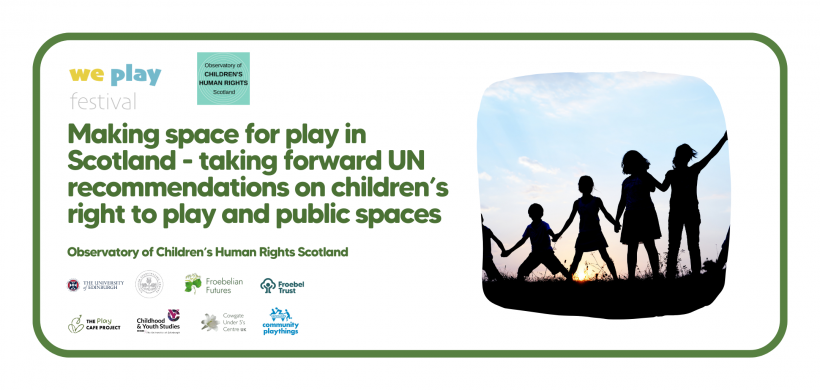 Running from 23 Sep-1 Oct, We Play celebrates children's free play in Scotland in a beautiful pop-up play café.
Making space for play in Scotland – taking forward UN recommendations on children's right to play and public spaces
6:00 PM – 7:00 PM
Venue: The Netherbow Theatre @ The Storytelling Centre
This panel will discuss what the recently published UN Committee on the Rights of the Child's Concluding Observations mean for children's right to play in Scotland, with a particular focus on ensuring all children have access to public play spaces.
The panel will be hosted by the Observatory of Children's Human Rights Scotland and chaired by Children and Young People's Commissioner Scotland Nicola Killean. Panel speakers will include Dr Laura Wright (Associate member of the Observatory and Lecturer in Childhood Studies at MHSES), Theresa Casey (writer on play and children's rights, and past-President of the International Play Association), and Marguerite Hunter Blair (Chief Executive of Play Scotland). We will additionally be joined by Natalie Don MSP, the Minister for Children, Young People and Keeping the Promise.
The UN Committee on the Rights of the Child is a panel of international experts who uphold the UN Convention on the Rights of the Child in all signatory countries. Every signatory is periodically reviewed by the UN Committee on the state of children's rights in their country, which results in a list of recommendations to be nationally implemented by the next review: the Concluding Observations. Scotland and the UK were reviewed earlier this year.