David Barbour

19th September 2023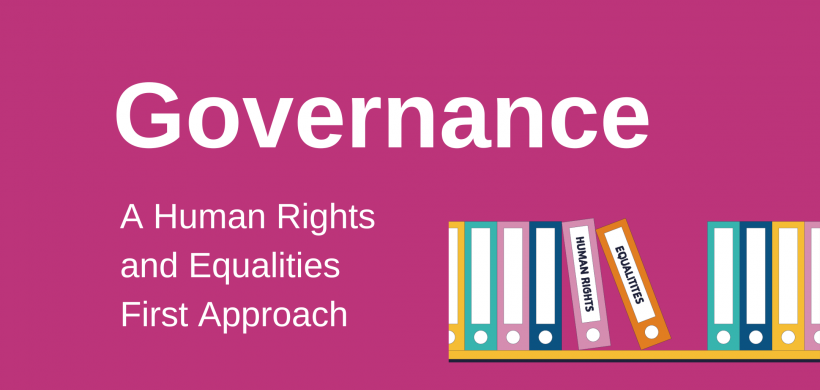 What are human rights and equalities, and why should boards and committees incorporate them? An introduction to the What, Why, and How.
About this course
This is an introduction to what a human rights and equalities approach means for third sector boards and committees.
It's for people who have a say, or give advice and support, on how boards or committees are run: trustees, board or committee members, managers, capacity building officers etc. – and will provide you with the tools you need to integrate human rights and equalities into the work of boards and committees.
The main session runs for 2 hours, with an optional 30-minute clinic for those wanting tailored advice and support from our Governance expert, Anj Handa.
Join us to learn
About human rights and equalities – what are they, and why do they matter?
What a human rights and equalities first approach is and why it is relevant to your board.
How to apply this approach to your board's recruitment and culture.
About this event
This training will be hosted online, we will send you the Zoom link to join 2 days before the event.
The training is open to anyone working within Scotland's third sector interested in board governance. It will run from 10am to 12pm with an optional 30 minute clinic session on Tuesday 10th October 2023.
We strive to make all of our training sessions accessible. Please let us know if you have any accessibility needs when you book your place.
Please note, if a significant number of people from a single organisation register to attend the same training session, we may be in contact to seek alternative options.
About the facilitator
Anj Handa is the Founder of global changemaker community Inspiring Women Changemakers. Named in the Charity Times 2023 International Women's Day list for the capacity-building she undertakes with grassroots organisations and for her passion to grow and develop charity trustees, she has also been recognised by Forbes as one of 10 Diversity & Inclusion Trailblazers You Need to Get Familiar With.
Anj has 20 years' experience of board participation, including six years as the Chair of an Arts Council England National Portfolio Organisation, Freedom Studios and eight years as an Independent Governor of Leeds Arts University, where she was also Chair of the Search & Selection Committee and an ex officio member of the Renumeration Committee.
Having completed the Institute of Directors' Certificate in Company Direction and with training in charity Governance and the Nolan Principles, she brings a wealth of experience, contacts and tried and tested models and resources to support organisations.
Anj specialises in guiding boards and senior leadership teams though periods of change and has first-hand experience of leading Freedom Studios through significant change and challenging circumstances to a strong financial position.
About THRE
THRE (Third Sector Human Rights and Equalities) is a partnership of GCVS, EVOC and HTSI. It's a new nationwide project with funding from the Scottish Government Equality and Human Rights Fund to allow us to develop and deliver resources, training and networks to support third-sector organisations towards taking a human rights and equalities first approach to their organisational development and delivery. As such, course spaces will be prioritised for Scotland-based organisations.
To contact us about this training session, please email THRE@gcvs.org.uk