David Barbour

5th April 2022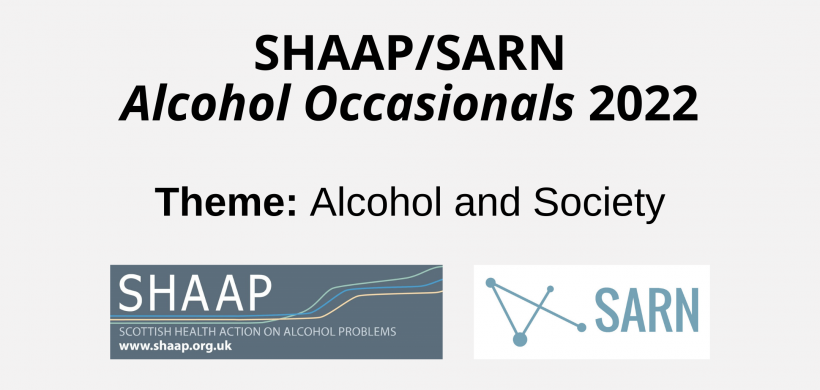 Dr Inge Kersbergen and Dr Laura Fenton on the implications of the decline in youth drinking for policy and practice
Scottish Health Action on Alcohol Problems (SHAAP) and the Scottish Alcohol Research Network (SARN) invite you to join us online on Wednesday 20 April from 12.30-14.00 BST (UK time) for our second SHAAP/SARN Alcohol Occasionals event of 2022.
Dr Inge Kersbergen and Dr Laura Fenton will present "Youth drinking in decline: Implications for policy and practice" and we will then open to Q+A and wider discussion.
Dr Inge Kersbergen is an SSA academic fellow in the School of Health and Related Research at the University of Sheffield. Her research focuses on social and environmental influences on health behaviour, particularly alcohol consumption. She holds a PhD in Psychology from the University of Liverpool, where she investigated how visual attention to alcohol warning labels and advertising is associated with drinking behaviour. In her postdoctoral work, Inge examined how reductions to the serving size of alcohol and food can be used to decrease alcohol consumption and energy intake. During her fellowship, she is developing this line of work further to investigate how the packaging size of alcohol sold in shops influences drinking behaviour and how we may harness this effect to reduce alcohol consumption. Her Twitter handle is @Inge_Kersbergen.
Dr Laura Fenton is a Research Associate in the School of Health and Related Research at the University of Sheffield, where she works on the Wellcome-funded Youth Drinking in Decline project, and in the School of Environment, Education and Development at the University of Manchester, where she is conducting research for the UKRI-funded Austerity and Altered Life-courses project. Laura's previous and current research build on her doctoral work on the changing place of alcohol in the lives of three generations of British women. Her areas of expertise include alcohol, youth, gender, the life course, and biographical methods. Her Twitter handle is @soc_researcher.
The webinar will be hosted online using Zoom, and registrants will receive a link to join.
Alcohol Occasionals are free to attend and open to all, and our audience is diverse, including academics/researchers, healthcare professionals, policy-makers and members of the public.
Register for free now!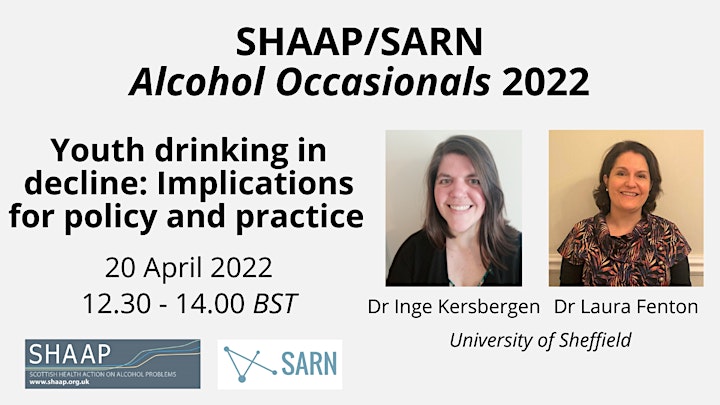 In this talk we will discuss work from a 4-year Wellcome-funded project that aims to understand mechanisms underlying the decline in youth drinking over the past two decades.
Alcohol consumption has declined among children and young adults since approximately 2003. A smaller proportion of young people consume alcohol and those who still do so drink less heavily than young people two decades ago. This is a population-wide, international trend that has persisted into adulthood in at least some high-income countries. Understanding the extent of and reasons for this decline is important if we wish to harness and maintain its benefits for young people's health and wellbeing.
In this talk, we will first give an overview of the background literature and the key proposed mechanisms underlying the decline, before discussing three strands of our research that point to important implications for policy and practice. Firstly, we will discuss how the decline in youth drinking intersected with improvements in other health behaviours, and changes in young people's attitudes towards school, wellbeing and relationships. Importantly, we found that improvements in alcohol consumption and other health behaviours are not equally distributed across society and may be exacerbating social inequalities among young people. Secondly, we will explore university students' transitions into (and out of) heavy drinking during their first year of university and how university contexts play an important role in shaping student drinking. Thirdly, we will explore how the ways young people gain access to alcohol have changed in the past two decades, and highlight potential targets for future interventions to limit alcohol acquisition. We will conclude our talk by covering some key knowledge gaps that remain and future directions for research, for which we would value audience input.
Authors: Inge Kersbergen, Laura Fenton, Hannah Fairbrother, Madeleine Henney, Abigail Stevely, John Holmes
Funding information: This project was funded by the Wellcome Trust
Conflict of interest: None to declare