David Barbour

10th July 2023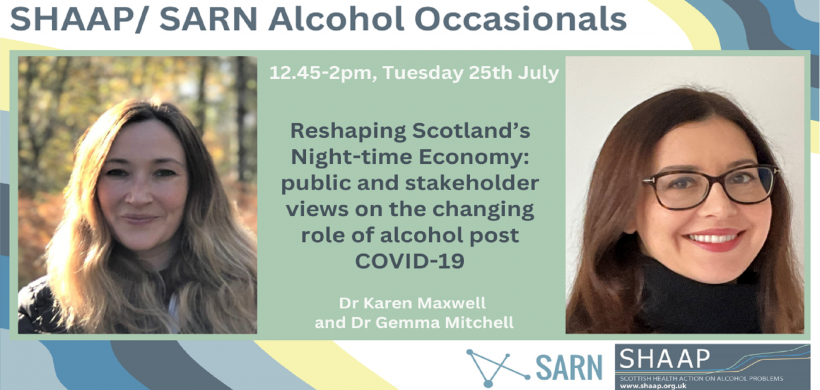 Reshaping Scotland's Night-time Economy: public and stakeholder views on the changing role of alcohol post COVID-19
Scottish Health Action on Alcohol Problems (SHAAP) and the Scottish Alcohol Research Network (SARN) invite you to join us online on Tuesday 25 July from 12.45-14.00 BST (UK time) for our fourth and final SHAAP/SARN Alcohol Occasionals event of 2023.
COVID-19 brought about unprecedented changes in Scotland's night-time economy (NTE), with closures and restrictions on premises. These changes offer an opportunity to explore how the NTE could be reshaped post-COVID to reduce alcohol-related harms while maintaining a thriving NTE. Dr Karen Maxwell and Dr Gemma Mitchell will present findings from focus groups, conducted with members of the public, and stakeholder interviews with public health and licensing teams, frontline staff, and venue owners. This qualitative research was conducted as part of a wider mixed-methods study (ELEPHANT), to explore the question 'What is our vision as a society for the future of Scotland's night time economy?'
Dr Karen Maxwell is a qualitative researcher in the Substance Use Research Group at Glasgow Caledonian University (GCU). She currently works on an NIHR-funded project investigating the impact of extended venue opening hours on alcohol-related harms in society. Karen has worked extensively in public health research, investigating social attitudes towards a wide range of public health topics. Karen's research interests centre around gender and social inequalities in health, with previous research having focused on alcohol policy, sexual health, parenting, poverty, and women's reproductive health. She holds a BSc (Hons) in Psychology from the University of York, a MSc in Occupational Psychology from the University of Manchester and a PhD in Social and Public Health Sciences from the University of Glasgow.
Gemma Mitchell is a qualitative researcher with a sociology and social work background. She completed her PhD in sociology in 2017, and since then has been studying the commercial determinants of health, with a focus on alcohol industry involvement in science. Gemma is currently working on Elephant, a mixed methods evaluation of later and extended premises hours for alcohol in the night-time economy in Scotland, alongside various projects related to alcohol industry corporate political activity.
The webinar will be hosted online using Zoom, and registrants will receive a link to join.
This event is for public health professionals, researchers, healthcare workers, civil servants, NGOs, health agencies etc. If you or your organisation receives funding from the alcohol industry (alcohol producers, retailers, trade associations, Social Aspect Public Relations Organisations (SAPROs), & Business-Interest NGOs) please do not attend.
Register for free now!