David Barbour

12th January 2021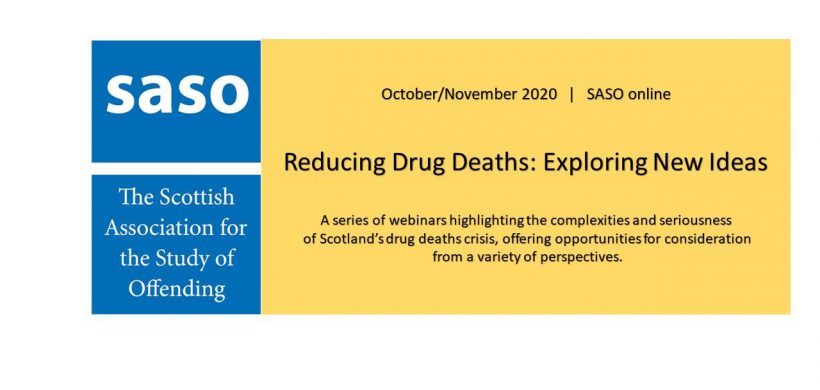 A series of webinars highlighting Scotland's drugs death crisis and enabling us to consider an urgent issue from a variety of perspectives.
Join us on this series of Zoom Webinars during October and November 2020 for presentations from four distinguished keynote speakers …
• Thursday 29 October 2020 @ 6pm
Dr Saket Priyardarshi, Associate Medical Director & Senior Medical Officer, Glasgow Alcohol and Drug Recovery Services
"Drug Deaths in Scotland: facts, figures and reasons"
• Thursday 5 November 2020 @ 6 pm
Professor Catriona Matheson, Professor in Substance Use, University of Stirling & Chair of the Ministerial Drug Death Task Force for Scotland
"Where are we now?"
• Thursday 12 November 2020 @ 6 pm
Professor Dame Carol Black, Newnham College, University of Cambridge & Chair of the Independent Review of Drugs
"The English Independent Review of Drugs"
• Thursday 28 January 2021 @ 6 pm
Professor Alex Stevens, Professor in Criminal Justice & Director of Public Engagement, Faculty of Social Sciences, University of Kent
"The International Position on Decriminalisation"
Each webinar will run from 6 – 7 pm on the dates indicated above and will take the format of a brief introduction from the Chair, followed by a 30-minute pre-recorded presentation from our guest speaker. The audience will be invited to post questions during the course of the presentation, allowing our keynote presenter to prepare and respond to as many as possible within the time limitations of the second half of the webinar.
All webinars in the series are Free to SASO members and supporters as well as the general public. Registration is essential and only available via this Eventbrite portal.
Accessing the webinar: Once you have registered for the event(s) of your choice you will receive a confirmation e-mail with a link to "ONLINE EVENT". This page will provide you with the link to the webinar (when available) along with any additional information about the event. Links to each webinar will be available no later than 48 hours prior to the event. Automated reminder e-mails, together with the webinar link will be e-mailed to you 48 hours, 2 hours and 10 minutes before each event starts.