David Barbour

12th January 2021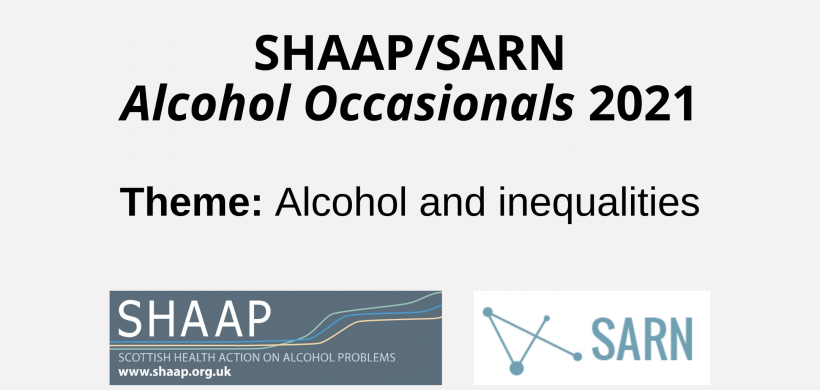 Jennifer Boyd – "Beyond behaviours: How health inequality theory can enhance our understanding of the 'alcohol harm paradox'"
Scottish Health Action on Alcohol Problems (SHAAP) and Scottish Alcohol Research Network (SARN) warmly invite you to join us online on Wednesday 20 January from 12:30-14:00 GMT for our first SHAAP/SARN Alcohol Occasionals event of 2021.
Jennifer Boyd, University of Sheffield, will deliver a presentation entitled: "Beyond behaviours: How health inequality theory can enhance our understanding of the 'alcohol harm paradox'" and we will then open to Q+A and wider discussion.
Jennifer is currently a PhD student in the Wellcome Trust Doctoral Training Centre for Public Health, Economics and Decision Science at the University of Sheffield. Her PhD explores the causes of inequalities in alcohol-related harm (e.g. alcohol specific deaths) between socioeconomic groups. Her research draws on existing theories of health inequality not commonly applied in alcohol research to understand these inequalities. Jennifer is interested in how the resources available to people, their physical and social environment, life course trajectory, and the political and economic structures of our society contribute to alcohol harm. Jennifer plans to use computer simulation techniques, to test whether these alternative explanations underlie inequalities in alcohol related harm outcomes.
The webinar will be hosted online using the Zoom platform, and registrants will receive a link to join.
Alcohol Occasionals are free to attend and open to all, and our audience is diverse, including academics/researchers, healthcare professionals, policy-makers and members of the public.
Register for free now!