Drugs, Alcohol and Community Safety Edition.
Read the latest edition of Safety NET-works, which has all the latest news from SCSN and across the community safety sector including;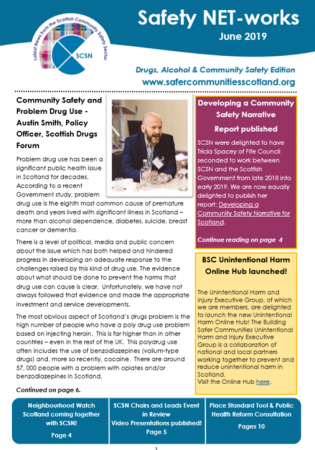 Community Safety and Problem Drug Use – Austin Smith, Scottish Drugs Forum
Developing a Community Safety Narrative Report published
BSC Unintentional Harm Online Hub launched
Chairs and Leads Event in Review
SCSN Updates and News!
#SCSN Masterclass: Participation
#SCSNConversationsWith…video: Kirsten Horsburgh, Scottish Drugs Forum
#SCSNConversationsWith…video: Dr Marsha Scott, Scottish Women's Aid
Question of the Month
Focus on Drugs
Huge fall in violent crime in Scotland – but alcohol a factor
Focus on Alcohol
LGBT Hate Crime soars in England and Wales
Spotlight on Services: Glasgow Council on Alcohol
Place Standard Learning Tool published
Public Health Reform Scotland: Consultation
Community Justice Scotland Report: Presumption Against Short Term Sentences
SCDC: Democracy Matters Conversation Analysis published
National Outcomes Framework for Volunteering
Audit Scotland Report: Planning for Outcomes
Read the latest edition of Safety NET-works in PDF Format. You can SIGN UP to our newsletter mailing list below. Please read our data privacy notification before signing up.
Missed an edition? Catch up on all the news now;
If you would like to have an article included in our newsletter the dates for submission are –
10 July for July newsletter
Please send your article to info@scsn.org.uk on or before the deadline and we will get back to you as soon as possible.