Read the latest edition of Safety NET-works, which has all the latest news from SCSN and across the community safety sector including;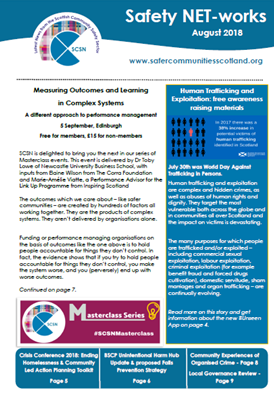 SCSN Masterclass Events: Measuring Outcomes in Complex Systems and PB/community safety
Human Trafficking: Free resources and new #UnseenApp
BSCP Unintentional Harm Hub
Crisis Conference 2018: Ending Homelessness
Community Led Action Planning Toolkits
Community Experiences of Organised Crime
Local Governance Review
Partnership Analyst Forum Update
Latest SCSN updates
Question of the Month
And much more!
Read the latest edition of Safety NET-works in PDF Format. You can SIGN UP to our newsletter mailing list below. Please read our data privacy notification before signing up.
Missed an edition? Catch up on all the news now;
If you would like to have an article included in our newsletter the dates for submission are –
5 September for September edition
Please send your article to info@scsn.org.uk on or before the deadline and we will get back to you as soon as possible.