**CORRECTION** In our original email we said that Dona Milne was the Chief Executive of YouthLink Scotland. This was an error. Dona Milne was the Chair of the Youth Research Group who did work with YouthLink. Tim Frew is YouthLink Scotland Chief Executive.
Youth Work edition. Read the latest edition of Safety NET-works, which has all the latest news from SCSN and across the community safety sector including;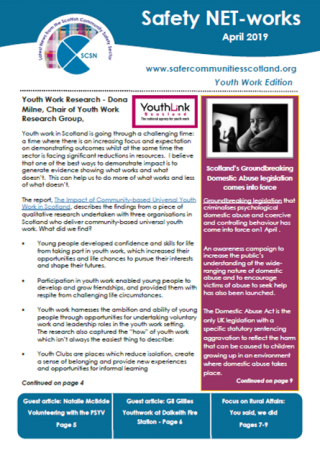 Youth Work Research – Dona Milne, YouthLink Scotland
New Domestic Violence Law comes into force
Natalie McBride: Experience of volunteering with Police Scotland Youth Volunteers
Dalkeith Fire Station on Fire! – Guest article by Gil Gillies
Focus on Rural Affairs, SPARC Rural Crime Strategy
Islands Consultation
Local Government in Scotland: Challenges and Performance 2019
Change of Guard on BSCP Unintentional Harm Group
SCSN Update
Summer Programme of Community Safety Events
Question of the Month
In other news…
Read the latest edition of Safety NET-works in PDF Format. You can SIGN UP to our newsletter mailing list below. Please read our data privacy notification before signing up.
Missed an edition? Catch up on all the news now;
If you would like to have an article included in our newsletter the dates for submission are –
5 May for May newsletter
Please send your article to info@scsn.org.uk on or before the deadline and we will get back to you as soon as possible.